Actors portray characters in a performance, performing for films, television, radio and the traditional theatre.
There's no acting with these mugs they're the real deal
Every actor needs an actor mug
Click Here For Actor Mugs Prices & Availability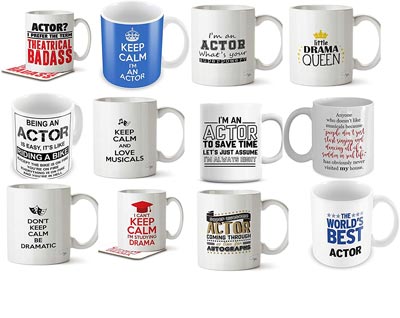 Theatrical Badass Mug
A mug with matching coaster written in black and white writing which reads
"Actor? I prefer the term theatrical badass."
Keep Calm I'm An Actor Mug
Something to calm the nerves before going on stage A blue mug with "keep calm I'm an actor."
I'm An Actor Mug
A white ceramic mug with the message "I'm an actor what's your superpower?"
Being An Actor Is Easy Mug
"Being an actor is easy it's like riding a bike except the bike is on fire, you're on fire, everything on fire and you're going to hell."
Super Awesome Actor Mug
"Super awesome actor coming through no time for autographs."
I Can't Keep Calm Actor Mug
"I can't keep calm. I'm studying drama."
Don't Keep Calm Actor Mug
"Don't keep calm be dramatic."
Save Time Actor Mug
"I'm an actor to save time let's presume I'm always right."
Musical Mug
"Anyone who doesn't like musicals because people just don't start singing and dancing all of a sudden in real life has obviously never visited my house."
Keep Calm Musical Mug
"Keep calm and just love musicals."
The Worlds Best Actor Mug
With the message "the worlds best Actor" a white ceramic mug available in blue, black or pink.