Are you stuck on what to buy your wife, husband, partner, boyfriend, girlfriend, children, parents, siblings, friends, or colleagues for Christmas?
Have you considered Christmas Mugs?
Mugs work for everyone. They a suitable gift for anyone, know anyone who doesn't enjoy a hot drink? No, of course not. That's why they'll appreciate a Christmas Mug.
What Kind Of Christmas Mugs Do You Want?
Mugs are affordable, ranging from a few pounds for a funny Secret Santa Mug to tens of pounds for an extravagant set.
Mugs are customisable so that you can add a personal touch with the receivers name.
Mugs create a personal connection. Studies have shown that people develop an emotional connection to their mug, which will create an emotional connection to you, the person who gave them the mug.
---
Emma Bridgewater Christmas Mugs
Emma Bridgewater is a household favourite with a range of English Earthenware mugs made from locally sourced clay at the Stoke on Trent pottery.
Emma Bridgewater offers a range of festive Christmas Mugs or many other everyday designs, some of which are customisable, so you can add a name of your choice.
Dunoon Christmas Mugs
Dunoon Christmas Mugs are intricate and detailed, made from fine bone china by adept craftsmen at the renowned Staffordshire Pottery.
Dunoon Mugs are named after places in Scotland with various styles available, including four shapes of Christmas mug in several designs, such as the Vintage looking 'Braemer' the 'Bute with Christmas post theme designs the classic 'Caringorm' with a choice of animals in the winter moonlight.
Royal Doulton ED Mugs
If you want to buy a special someone a Porcelain mug set for Christmas, look no further than the Royal Doulton ED set.
Designed by Ellen DeGeneres each mug features a festive red design inspired by nature and the act of giving. Each mug is different and includes stars and snowflakes along with a message.
The mugs are a large 488ml, microwave and dishwasher safe and are boxed for easy wrapping.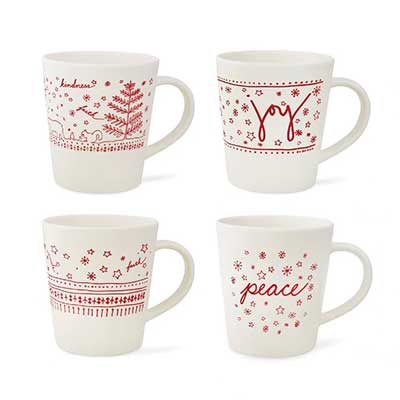 Wedgwood Winter White Mugs
Wedgwood Winter White mugs are premium quality fine bone china.
Each mug is banded in platinum and features a different festive image, A wreath, mistletoe, holly and a Christmas tree.
The winter white mug set comes in a blue gift box and will make a memorable gift for that special someone in your life.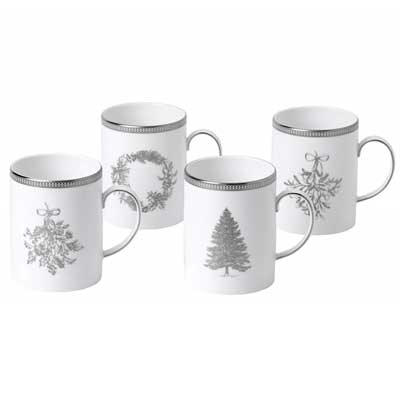 Wrendale Christmas Mugs
If you want to give a mug that's fun, cute and festive, then the collection of Wrendale Christmas Mugs will fit the bill.
The mug's feature festive animals, including robins, mice, fox cubs and more on fine bone china. Festive messages are written on the inside rim with decorative holly.
Mugs For Couples
Buying a gift for a couple can be problematic you need to choose something that'll be loved and appreciated by both.
This is where mugs for couples come in, Pairs of matching themed mugs, one for him and one for her.
Subtle, serious, cute and humorous mug sets for couples are available.