Do you need to buy gifts for Secret Santa this year? For your work colleagues, friends or family?
Finding gifts within the set budget can be tricky but don't fret. Secret Santa Mugs fit the bill perfectly and are suitable to give to anyone.
Here are a range of mugs for Secret Santa. They range from sensible to complimentary to humorous to outright rude!
Sensible Secret Santa Mugs
Pleasant and practical mugs that are ideal for sensible people.
Emma Bridgewater Mug
Everyone likes drinking from an Emma Bridgewater Mug, a sensible and affordable secret Santa gift with many designs which include Festive to get in the spirit and Personalised so you can add the person's name a nice touch that ensures no one else in the office will use the Mug.
Whittard Latte Mug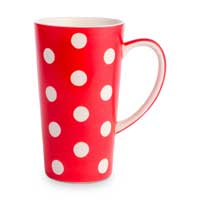 A Latte, while curled up on the sofa, is enough to make the coldest of winters feel a lot warmer. The Whittard Latte Mug is big and bold and will be much appreciated when received.
Bodum Coffee Cup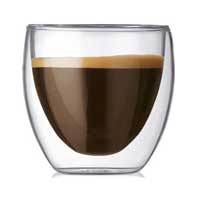 A Bodum Coffee Cup is the perfect secret Santa gift for the coffee connoisseur with glass cups of all sizes to fit all types of coffee. Find out their favourite coffee and get a mug to suit them. For example, A 100ml Assam cup will suit the Espresso drinker, while the 300ml Pavina is ideal for Irish Coffee.
Complimentary Secret Santa Mugs
Mugs that include a positive compliment.
Five Compliments Mug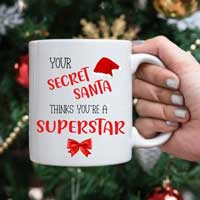 The Five Compliments Mug is Printed with the message "your secret Santa thinks you're" you then choose a word that best fits the receiver.
Beautiful
Amazing
Superstar
Stunning
Gorgeous
I'm The Boss Mug
A simple mug printed with "I'm The Boss, let's assume I'm never wrong". You know your boss always thinks they're right and so will defiantly appreciate This Mug.
Sometimes I Pretend To Be Normal Mug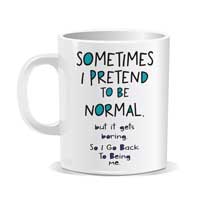 A Simple but complimentary mug printed with "Sometimes I pretend to be normal, but it gets boring, so I go back to being me."
Humorous Secret Santa Mugs
Funny mugs that'll make them smile.
I Don't Care Mug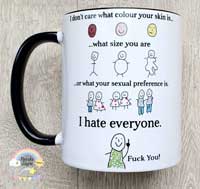 The I Don't Care Mug is printed with "I don't care what your skin colour is, what size you are, or what you're sexual preference is, I hate everyone 'F' you" perfect for the office or family grump.
I Got This Because Mug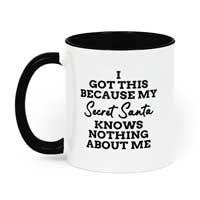 A white mug with a black handle interior with writing that reads, "I got this because my secret Santa knows nothing about me", is The ideal gift for the mysterious newcomer to the office.
Sorry For Being Unclear
There's always that one frustrating colleague, buy them this Mug which reads, "Sorry For Being Unclear, stop being a moron you didn't read my email properly."
Rude Secret Santa Mugs
Offensive mugs. Only give to your colleagues, friends, and family who have a good sense of humour and are hard to offend.
Mr Misearble Bastard Mug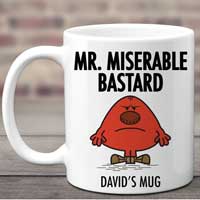 We all have to deal with that miserable so and so at work or family gatherings. The Mr Misearble Bastard Mug features a Mr Men style cartoon and personalised name.
Favourite Words Mug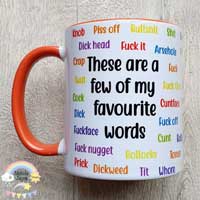 A Secret Santa mug for the compulsive swearer printed with "These are a few of my favourite words" surrounded by every swear word you can think of in various colours.
Your Secret Santa Thinks Mug
A festive mug with holly and red handle & rim printed with the message "Your Secret Santa thinks you're a ****" we all know someone who deserves this Mug.
See More Secret Santa Mugs
We have only gone through a few Secret Santa mugs to see the full range (there's 100's). Please follow the link below.