Orla Kiely Mugs feature designs inspired by patterns from the middle of the last century. Orla Kiely is a designer who's passionate about colour and design as can be seen by the range of mugs.
The mugs are colourful, symmetrical and flowing yet minimal, bringing 50's and 60's nostalgia into the modern-day home. Designs are based on plants, flowers and animals. Timeless looking designs that'll make you smile.
Orla Kiely mugs are available in a range of colours and multi colours which include pink, blue, green, orange, yellow and black.
Click Here For Orla Kiely Mugs Prices & Availability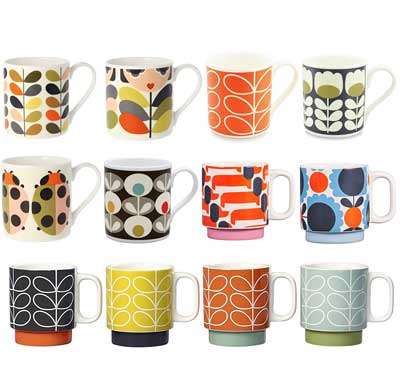 Orla Kiely Mugs range in sizes from 330-400ml
Use in the microwave but handwash to maintain colour
Stackable mugs are also available
Orla Kiely Mug Designs Include
60's Stem
Acorn
Apple Owl
Art Deco
Busy Bee
Buttercup Stem
Cat Poppy
Early Bird
Lady Bug
Linear Stem
Lola
Multi Oval
Multi Stem
Multi Flower
Patchwork
Rabbit
Sausage Dog
Scribble
Stripe Stem
Tulip Stem
Whale