Welcome to Largemugs.co.uk. Our mission is to provide the best large mugs for those who enjoy larger-sized beverages. A Large Mug has a capacity of 350-500ml. They are best for Tea & Coffee drinkers who prefer more generous amounts. Any mug that is over 500ml is a Giant Mug, ideal for those who like double servings or bigger. Out of all the mugs we have a few favourites, listed below.
Click Links Below To View Mugs
The majority of Large Mugs are ceramic. Choices include Earthenware, Fine Bone China, Porcelain and Stoneware. There is a wide range of sizes, colours, designs and themes. You can be sure to find the ideal match for your home and kitchen.
Who Makes Large Mugs?
There are a few UK based mug manufacturers who make some very good Large, Giant and even Huge novelty mugs.
Cath Kidston
We like Cath Kidston's Stanley Mug range all have a 500ml capacity, the top end size for a large mug. These mugs are Earthenware have a tapered shape and are available in many design ranges. Cath Kidston also offers the 'Crush' range, like the Stanley shape, but with a different handle. These mugs also hold 500ml.
Dunoon
Dunoon makes beautiful large bone china mugs at their pottery in Staffordshire. Dunoon Glencoe Mugs are very large (and tall) and also have a 500ml capacity. Dunoon mugs will not only serve you a big Tea or Coffee, but they are also designed to entertain and educate you. The first time you set eyes on a Dunoon you can't but help study it.
Every mug has been hand decorated with lots of images and writing around a particular theme. Such as weather forecasts, the world map, the human body, traffic signs, the universe and lots more. Is half a litre not big enough for you? try The Dunoon Henley Mugs which are 600ml.
Emma Bridgewater
Emma Bridgewater 1 Pint Mugs have a very generous 568ml, double the size of a regular mug. All Emma Bridgewater Mugs are constructed from classic cream-coloured Earthenware. The company is another famous Staffordshire pottery.  The most famous designs include 'Black Toast' 'Polka Dot' and 'Polka Hearts'. There are many other hand-decorated designs available with 56 in total. All mugs can be custom written with a handpainted name of your choice.
Keith Brymer Jones
Keith Brymer Jones offers two large sizes with his best selling 'Bucket Mug' range. Standard Bucket Mugs have a 350ml capacity while large Bucket Mugs have a capacity of 500ml. Minimal 'simple yet practical' design made from white ceramic. Each mug includes a name, word or message. 'Love' 'Daddy' 'Overpaid/Underworked' 'Cat Lover' 'Big Drink'. These are a few there are many to choose from, all wording is in small lettering and a single colour.
Le Creuset
If you want some high-quality stoneware to drink from, look no further than the large mugs from Le Creuset. Made from a specialist clay that's fired at a high temperature. These mugs are very tough you will have a hard time breaking one if you were to drop it. Le Creuset mugs are not the largest but are still big enough with a capacity of 350ml. Microwave, dishwasher, grill and oven safe. Mugs come with a 5-year warranty something most other mug makers don't offer. There are 16 cheerful colours in the range.
Maxwell & Williams
Maxwell & Williams have a range of well designed and sizable Porcelain Mugs. With gold patterned rims, handles, bases and a great flower pattern around the body. Various decorations are available. Including 'Strawberry Thief' 'Acanthus' 'Golden Lily' 'Cray' 'Wandle' 'Seaweed' 'Granville' and 'Bird & Pomegranate'. Each mug has a capacity of 420ml.
Seltman Weidan VIP
Next, we have some artistic Porcelain Mugs from Germany made by Seltman Weidan. The Germans are the best at making pretty much everything. These largely sized mugs are no exception. Every mug has a 400ml capacity. Constructed from high impact resistant Porcelain. Very tough and difficult to break.
There are various versions available. Each decorated with some calming and soothing artwork. Artwork themes include countries, wildlife, and city coffee shops. The Seltman Weidan VIP range also contains plain Porcelain Mugs. With a few shapes and sizes to choose from. The plain mugs are even bigger than the decorated ones. Capacities of 450ml, 500ml and 600ml are available.
Plain Large Mugs
So we have gone through our favourite Large Mugs. We like them because of their high quality and large capacities. All the above mugs feature a pattern or design of some sort. Some people prefer good old plain mugs which are a single colour. We have lots to show you, there are far too many to list here, but we will go through some of them by colour.
We will start with good old white ceramic. White represents lightness, goodness and purity. White is the most popular crockery colour in the British kitchen.
WM Bartleet & Sons
WM Bartleet & Sons have a white porcelain mug which holds a large 700ml. Or 1.3 pints or 24 fluid ounces (this mug belongs in the Giant Mug category). Mug Bug has the 'Simple Plain El Grande Mug' which is ceramic and 425ml. While 'Crackin China' sell the 1 pint fine (that's big at 568ml) bone china mug.
Glass Mugs
What about glass? Some of us like to see what we're drinking through the mug, well we have a few options for you. The double-walled 470ml mug gives the impression of the liquid 'floating'. The double-wall will keep your drink hotter for longer. These are a regular coffee cup shape and are also available in 400ml sizes. Next, we have a 400ml glass mug which is also a regular shape but only single-walled. Ceramic is a better insulator than glass. If you're going to go for glass mugs, please be aware your hot drink will cool down quicker, unless you go for the reputable Bodum Coffee Cups which will keep your drink hotter for longer than any other glass mug.
Not into white or clear and want some colour? We have a couple of mugs which are available in various colours. If you like your ceramic glossy, then you could choose a Price & Kensington 14oz (400ml) mug. And if you like matt finished ceramic, then there's the 'Barcelona' Ceramic Latte Coffee Cup which is 400ml.
Choosing The Colour Of Your Large Mug
You might pick your favourite colour, or you can go deeper. Different colours have different meanings. You might want to pick a colour to suit your personality. The personality of the person you are buying a gift for. Or the mood of your home (the current mood or the one you want to create). Here are the main colours to choose from (various shades of each colour are available). And what they represent.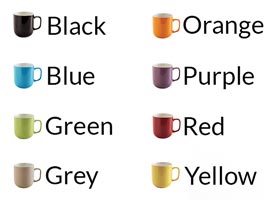 Black – Authority, power, seriousness and strength
Blue – Confidence, intelligence, trust and wisdom
Green – Energy, life and nature
Grey – Conservative and sophisticated
Orange – Creativity, happiness, health, success and warmth
Purple – Extravagance, independence, mystery and magic
Red – Courage, love, passion, romance and strength
Yellow – Clarity, honour, intellect, loyalty and positivity
Large Mug Shapes
Mug shape is important especially if you drink coffee. Recent studies have confirmed the shape of your coffee mug can change the way your coffee tastes. If you like your coffee intense and aromatic go for a tall one. The latte mug is a classic example. If you want your coffee sweeter go for a shorter and wider mug. If you're not that fussy and like your coffee large (or any other hot drink for that matter) then read on. There are many different large mug shapes to choose from. One thing they all have in common? They will all hold a lot of hot beverage.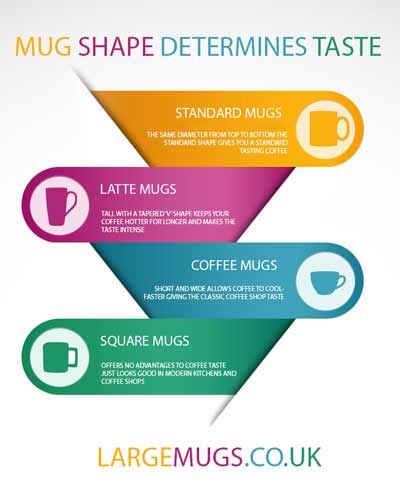 Classic Coffee Mugs
A classic coffee mug is short, with a uniform diameter, stackable and has a 'C' handle. Found in commercial premises because of durability and storage friendliness. Classic coffee mugs are standard and hold about 300ml. Larger versions for the home are available.
Latte Mugs
Latte mugs are tall with a tapered 'V' shape, and a flared handle. This design will keep your drink hotter for longer and is a favourite with big coffee drinkers. Latte glasses feature a wide circular base and a 'C' handle close to the base. A latte glass has a standard capacity, and your coffee will cool fast in a latte glass. Two reasons the big coffee consumer avoids them. On the other end of the scale, you have a large coffee cup. Short and stout with a small base large tapered body and extra-wide rim. A mug of the sweet coffee drinker.
Standard Mugs
A standard mug is the same diameter at the top as it is the bottom with a 'C' handle. A lot of large mugs are bigger versions of standard mugs. The large versions will hold 450ml while the giant versions will hold 600ml. Large enamel mugs also have a uniform diameter 'C' handle but always have a tapered lip at the top. Indestructible Enamel mugs with a 550ml capacity are favourite with campers.
Tapered Mugs
Tapered mugs always have a narrower base than the top. There are but some tapered mugs on the market which are the other way round. Dumpy at the bottom and smaller at the top. Flared handles are common on tapered mugs. Unfortunately, conical mugs or any mug with a small base are easier to knock over than other mugs. Handleless mugs are always tapered, to avoid slippage. Bell mugs are an inverted bell-shaped with a small base and a tapered edge near the top.
Tall Mugs
Tall mugs always have a large capacity. A tall mug is longer than it is wide. You can find all types of handle on a tall mug. Some tall mugs have a tapered or flared top while others are uniform. Mugs are usually round except for square mugs. The shape doesn't offer any advantages when it comes to drinking. Designed to go with square crockery and cutlery. Cube mugs are exactly that, a cube they fall under the novelty category.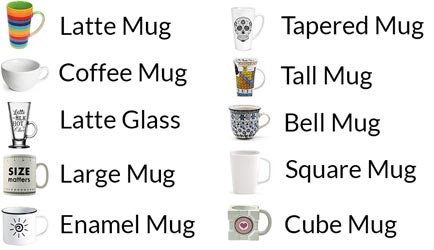 Large Mug Handles
Large Mugs have the option of many different handles. Designed for an optimal grip. The handle you choose is down to your personal preference. In some instances, the type of handle depends on the shape of your mug. Now let's go through the handles available. There are nine different types of handle.
C Handle
D Handle
Square Handle
Open Handle
Flared Handle
T Handle
Double Handle
Handleless
Novelty Handles
C Handle
The C shaped handle is the most common found on most mugs big or small. The C handle is the strongest of all grips. The C shape handle accommodates all fingers on a large mug. On a regular mug, the index and middle finger grip the handle. The ring finger on the outside helps steady the mug.
D Handle
The D shaped handle is larger and squarer than a C shaped handle. The D will accommodate all fingers on a large mug. On regular mugs, the D handle will accommodate the index middle and ring finger. While the little finger or 'pinkie' will steady the mug.
Square Handle
A square handle is a more pronounced version of the D handle. The square edges appeal to those with minimal contemporary kitchens. The amount of fingers used in the grip depends if the handle is square or rectangular. (Rectangular shaped handles are also known as square handles).
Open Handle
An open handle mug has no bottom section. Thus all fingers grip the mug. Some prefer this design, but the open handle is the weakest of all mugs and is more prone to breaking off.
Flared Handle
Flared mug handles are close to the mug at the bottom and 'flare away at the top'. Three fingers grip the mug while the pinkie provides extra support.
T Handle
T handle mugs attach with a single section in the centre. Your index and middle finger sit at the top while your ring finger and pinkie sits at the bottom. T handle mugs aren't the most comfortable to grip and are more prone to breaking off.
Double Handle
Double handle mugs have two handles. The handle can be any of the shapes above. Double handle mugs are very safe. An excellent choice for children and elderly people.
Handleless
Handleless mugs have no handle. Ergonomic design allows the hand grips the body without risk of slipping. Handleless mugs are stackable, a great space saver.
Novelty Handles
There are thousands of mugs with novelty handles made for the gift market. Novelty handles amuse. First, ergonomics comes second in the design. Some grips work well. (like the knuckle duster mug for instance which will accommodate four fingers). Others have dubious grips (like the angel wings handle mug).

What are large mugs made from?
Most are ceramic. That shiny new mug in your hand may not look over a day old but the clay used to make it took millions of years to form. Ceramic is derived from granite rock. Alumina and silica from decomposing rock have mixed with water to form clay. Different types of clay are blended to form clay mixes. Then shaped into large mugs. Then fired in a furnace at temperatures of 1100-1300 degrees Celsius. There are four types of ceramics used in mug production.
Large Mugs are available in four different types of ceramic
Earthenware
Earthenware, as used by Emma Bridgewater, is a porous clay mix. Glazed to ensure no water (or tea) absorption occurs. Earthenware has been about for centuries. Way before stoneware and porcelain. Earthenware mugs are the thickest of all mugs and are the most chip prone. Earthenware is a cheap ceramic. You will discover that cheap mugs are usually made from this easy to form clay.
Stoneware
Unlike earthenware Stoneware is non-porous so doesn't need glazing. You will find large stoneware mugs in matt (not glazed) or gloss (glazed finishes). Stoneware is hard as nails a stoneware mug is near impossible to scratch. Stoneware offers the ultimate in durability so if you're known to break a mug or too then stonewares for you. A Le Creuset mug is an excellent example.
Porcelain
Porcelain is a superior (in price and quality) ceramic to Earthenware and Stoneware. Like stoneware, it's non-porous even when not glazed. It's also very hard and tough as well. The natural fine white colour makes this an easy ceramic to decorate. The most striking large mug designs? Usually printed or painted onto Porcelain. Porcelain is easier to form than earthenware and stoneware. So thinner more exciting shaped mugs are possible. Check out the Royal Doulton Porcelain mugs for some examples.
Bone China
The strongest of all ceramics is Bone China. A version of Porcelain with added bone ash derived from animal bones. Invented in the UK bone china is also known as English China. Vitrified Bone China is non-porous. Thanks to the very high strength of bone china, desirable very thin mugs are on the market. The excellent translucency properties ensure mugs to a high standard. Dunoon makes some excellent large bone china mugs.


We have gone through a few of the favourite UK mug brands here. There are thousands of large ceramic Mugs. In many different designs and many different shades of the main colours to choose from. We're sure you'll find the one you're looking for.