Scion Mugs are a collection of Scandanavian influenced designs featuring animals and birds. Simple, bright and practical would be the best way to describe these mugs which are affordably priced and made using environment conscious, sustainable methods.
350ml capacity
Dimensions 9.5 x 8cm
Dishwasher Safe
Click Here For Scion Mugs Prices & Availability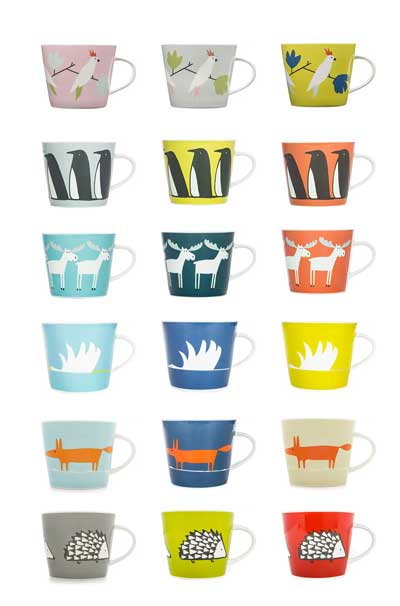 Scion Mugs Animal Designs & Colours Include
Love Birds – Available in peony, pebble & zest.
Pedro Penguin – Honey, ice, pimento & blush.
Marty Moose – Aqua & frost, ice & spice, ice & pimento, marina & ice.
Colin Crane – Citrus, denim, dove & teal, charcoal, dandelion, duck egg, neutral & crane.
Mr Fox – Ceramic & orange, denim & orange, teal, charcoal & lime, duck egg & orange, neutral & orange, yellow & charcoal, citrus, cornflower, flamingo and indigo, just greens, light grey, mandarin, pink & orange, spiced amber, yellow & charcoal.
Pajaro – Citrus, denim, dove grey & teal.
Spike Hedgehog – Red, yellow, green, blue, grey, neutral, orange and pink.
Barnie Owl – Dandelion pebble & hemp, rhubarb dandelion & slate.
Lintu – Duck egg sunshine & slate, sky rhubarb and dandelion, slate & ceramic, sunshine & ceramic.