Christmas is coming fast, and there are lots of presents to buy for family, partners, friends and even colleagues. This year choosing what presents to buy is going to be easy.
Everyone will love an Emma Bridgewater Christmas Mug. The wide range of designs ensures there's a mug for everybody.
Mugs are made from English Earthenware at the Emma Bridgewater pottery in Stock On Trent.
Mugs are microwave and dishwasher safe, suitable for everyday use or those special occasions.
Click Here For Emma Bridgewater Christmas Mugs Prices & Availability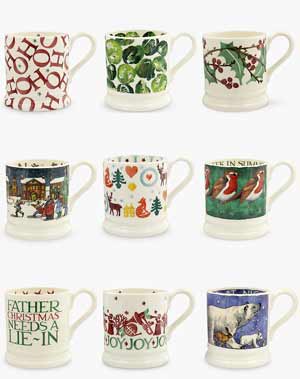 Designs Include
Ho Ho Ho
The mug is written with 'ho ho ho' Santa sounds in seasonal red with Christmas tree green stars, a light-hearted uplifting design.
Brussel Sprouts
Love them or hate them Brussel Sprouts are an essential food item on every table at Christmas, so what better way to celebrate the humble sprout with a dedicated mug.
Winter Berry
The Mug features a seasonal hand painting of berries, holly and branches made up of red, brown and green watercolours. Part of the Emma Bridgewater Winter Berry collection.
Winter Scene
A detailed imaginary Winter Scene of a snow-covered street featuring rabbits throwing snowballs, a badger is observing, an adult fox with his child and mice pushing a VW Beetle.
Christmas Brights
Print design is incorporating orange, red, brown, yellow and green. Features fox's, reindeer, hearts, stars and Christmas trees.
Robin
"Fat in winter and sleek in summer" the Robin fattens itself up for the Winter read the base of the mug for more information. features Christmas card style robins on a green background.
Father Christmas
"Father Christmas Needs A Lie In" a bet he does after such a hard nights work, Santa's tired. The other side of the mug reads "If I hang the Christmas stockings please will you do the washing up?". Written in green and red. Red stars on the inside.
Joy Trumpets
Decorated with 'Joy' in green and Trumpet motifs in red. Finished with stars trees and holly. If you prefer something more simple another versions available written all over with 'Joy' and a few red stars. Or you can buy both styles in a set.
Winter Animals
This mug has all your favourite animals walking in the same direction underneath the stars. A Polar Bear and her cub, a Hare, a Mouse, a Deer, Snowy owl and Wolf.
Holly & Ivy
A beautiful mug that's handpainted with Holly & Ivy with some Berries thrown in for good measure. A traditional festive design.
Click Here For Emma Bridgewater Christmas Mugs Prices & Availability