Bodum Coffee Cups & Mugs are incredibly functional and look smart, especially in the modern kitchen made from high-Quality materials including glass, porcelain, steel and even wood.
Bodum Mugs are reliable products that'll give you years of loyal service. You'll undoubtedly enjoy the feel of drinking your coffee from one of these great cups.
Click Here For Bodum Coffee Cups Prices & Availability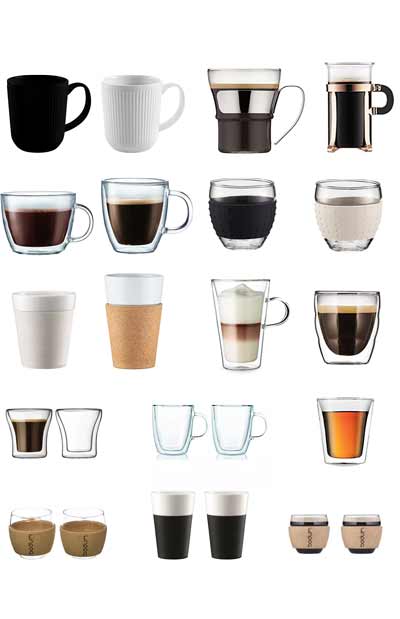 Assam
Handleless double-walled glass with a flared top for a comfortable grip which stops the glass coffee cup slipping from your hand.
Available in sizes 100ml, 200ml, 250ml and 400ml
Bistro
Combine the time tested double wall glass with a handle you get the Bistro glass. The minimal design incorporates smooth contours eliminating the need for edges.
The versatile 350ml capacity makes this an ideal all-round coffee cup from espresso to americano. The handleless version is available also.
Bistro Cork
A handleless pure white porcelain coffee cup surrounded by a cork grip which acts as a coaster and insulator aswell. Tapered body with a flat base.
Available in sizes 170ml, 300ml and 600ml (ideal for tall lattes)
Bistro Silicone
A tapered white porcelain cup with no handle,  a smooth lip and a grippy silicone sleeve around the body. You'll never drop this cup available in sizes 300ml and 600ml in colours red, white or black.
Canteen
A conical double wall coffee glass that works well with cold drinks and desserts also. Now you can have one cup that covers all situations needed in your home. The front features a white print with a picture of a coffee press and the words 'French Press Cafe.'
Available in 100ml, 200ml and 400ml
Handle version also available
Canteen Silicone
The conical shape as described above but in porcelain and a silicone grip in red, white or black.
Chambord
A pure glass a single-walled coffee glass that sits in a gold holder with black handle. Can be used as a handless coffee glass.
300ml capacity.
Double Wall Glass
A Bodum classic! The cup has a thick double-wall design that keeps your coffee hotter for longer and gives the impression your drink's 'floating'. Made from borosilicate glass blown by mouth at the Bodum factory in Portugal.
Douro
The Bodum Douro Coffee Cup, named after the Duoro valley and old and exquisite wine region in Portugal. Made from Porcelain available in black or white these mugs are suitable for combining with other porcelain kitchenware and will work with most kitchen/home decor. Each mug features a smooth exterior cut with fine grooves to represent the vines found in the Duoro valley. 350ml capacity, stackable, microwave and dishwasher safe.
Available in sizes 80ml (ideal for espresso), 250ml (small coffee) 350ml (regular coffee) 450ml (large coffee)
Pavina
A wider, rounder and smoother shape than the other Bodum coffee cups. Available as a standard glass or with a coloured silicone grip.
Outdoor versions made from shatterproof plastic are available, ideal for barbecues and picnics.
Available in sizes 80ml, 100ml, 200ml, 250ml, 300ml and 350ml.
Pilatus
Tapered shaped double wall glass with two ergonomic ridges in the body to help to hold safely and comfortably.
No handle, 80ml, 250ml or 350ml capacities.
Skal
The first Skal like a shaped beer glass inside a tapered glass. Don't be fooled by the look the Skal will double up as a tall coffee glass. The exceptional design combined with the double-wall construction will keep your drink hotter for longer. Other models in the Skal range are shorter with built-in grips.
Available in sizes 190ml, 200ml, 250ml, 320ml and 350ml.
Tiltis
A conical shaped double wall glass which flattens towards the top of the cup. Stackable available in sizes.
Available in 250ml, 350ml and 450ml
Travel
If you like to drink on the move take a look at Bodum Travel Mugs
What Are Bodum Coffee Cups Made From?
Borosilicate Glass
Bodum uses Borosilicate Glass to manufacture their coffee cups. Borosilicate is an extremely tough material that will handle any temperature in a domestic oven or freezer. Dishwasher safe, won't stain or cloud.
Santoprene
Some cups are coated with Santoprene a type of silicone used to provide an ergonomic, non-slip surface. All Bodum cups with a silicone coating are safe to use in the dishwasher.
Porcelain
A durable pure white ceramic, a long-lasting material that's ideal for the construction of coffee cups. Bodum Porcelain cups feature silicone or cork grips.
Breathable Glass
Bodum Coffee Cups are made from breathable glass, yes you read that right the glass breathes! Here's how.
All double-walled glass cups have space between the two layers of glass. The air pressure in the glass is subject to change according to outside air pressure or the temperature of liquid poured into the cup.
The smart engineers at Bodum have added a discreet hydrophobic silicone vent to the base of every glass. The vent stabilises the air pressure on the inside of the glass.
The result?
The surface of the glass stays cool even when a hot drink's poured in
Your coffee stays hotter for longer
Fancy an iced coffee? the glass will keep your drink cold for longer
Zero condensation will occur on the surface of the glass
The vent allows air to escape but doesn't let water in so is safe to handwash and use in the dishwasher
Are Bodum Coffee Cups Microwave & Dishwasher Safe?
Glass Bodum Coffee Cups are safe to use in the microwave, dishwasher, oven and freezer except those with cork sleeves and metal handles.
Only handwash cups with metal or cork sleeves (and don't use in the microwave, oven or freezer) if you're unsure consult the instructions that come with your coffee cups.
How To Take Care Of Your Bodum Coffee Cups
Taken care of these cups will last many years, and will look good even after hundreds of washes
Store carefully in your kitchen cupboards
Keep the glass away from metal cutlery in the dishwasher and separate from other items
Be careful not to drop, they are sturdy and won't likely shatter, but a hairline crack could occur
You probably won't notice a crack until you try using the glass again where it could break when it comes into contact with hot or cold water
If you do accidentally drop one of your cups scrutinise it if you notice a hairline crack dispose of the cup responsibly
Follow these steps and your coffee cups will give you years of service
About Bodum
"Good design doesn't have to be expensive." Peter Bodum
Bodum provides superior home accessories to the general public at affordable prices. All products are based on the concept of form follow functionality. Bodum's products are sustainable and environmentally responsible and sold in 55 countries.
Bodum is best known internationally for french coffee presses, the Santos, Melior and the more recent Chambord
Peter Bodum founded the company in Copenhagen in 1944. Today the company is run by Peters children Jorgen and Pia. A true family business.