Sophie Allport Christmas Mugs are perfect for festive gifts, stocking fillers or yourself.
A range of seasonal mugs is available with the following features.
Fine Bone China Construction
Microwave & Dishwasher Safe
Choice of 275ml or 425ml Capacity
Hand decorated
Smart Gift Box
Finished in Stoke On Trent, the pottery capital of the UK
Click Here For Sophie Allport Christmas Mugs Prices & Availability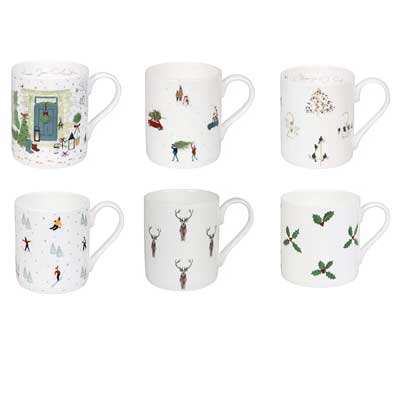 Sophie Allport Christmas Mug Designs Include
12 Days Of Christmas – Each day is numbered and decorated with french hens, turtle doves, the partridge etc.
Bubbles & Fizz – Champagne bottles on a gold bubble background includes Sophie's handwriting on the inside rim.
Christmas Dogs – A winter scene full of playful dogs sledging, skating and building snowmen.
Christmas Trees – A 500ml stoneware mug decorated with Christmas trees and a red rim.
Festive Forest – Badgers, Hares, Hedgehogs, Squirrels, Robins and Owls sit around the Christmas Tree.
Highland Stag – The bold and beautiful Highland Stag is available solo or in a group of four.
Holly & Berry – A festive pattern of green holly and red berries.
Home For Christmas – Small illustrations are depicting travelling with presents and Christmas trees in cars and sledges.
Night Owl – A barn owl flying over a winter village with mistletoe in beak. 'Night Owl' handwriting on the inner rim.
Partridge In A Pear Tree – A partridge in a pear tree made of festive red, green and gold.
Robin & Mistletoe – A colourful Robin is sitting beneath silver mistletoe.
Skiing – Skiers, skiing around Christmas trees in the falling snow.
This The Season – Snowy mountains, trees, Christmas trees, people and presents with a few reindeer for good measure.
Winter Woodland – A squirrel hare and owl around the Christmas tree and wintry mushrooms.
Click Here For Sophie Allport Christmas Mugs Prices & Availability