Wrendale Christmas Mugs are inspired by the outdoor wildlife found in the Lincolnshire countryside.
The award-winning artist Hannah Dale created this range of festive designs and will make a lovely Christmas gift or stocking filler.
Wrendale Christmas mugs are made by the highly reputable Royal Worcester from high-quality fine bone china and will give many years of loyal service.
Each mug is printed with a watercolour design and writing on the inside.
310ml Capacity
Fine Bone China Construction
Microwave & Dishwasher Safe
Click Here For Wrendale Christmas Mugs Prices & Availability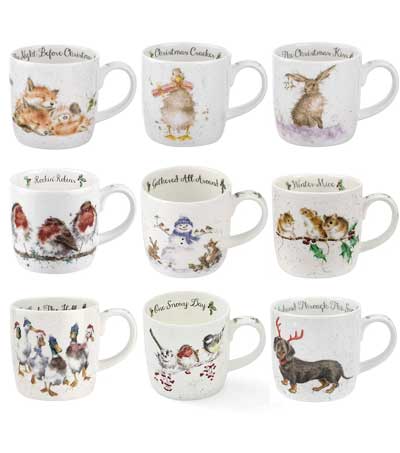 Wrendale Christmas Mugs Include
One Snowy Day: Three birds, including a robin, perching on a snow-covered branch with clusters of berries.
Dachshund Through The Snow: Features a cute dachshund sporting red reindeer antlers and a red collar.
The Night Before Christmas: Fluffy Fox cubs huddle together, keeping warm amongst the leaves and holly.
Boxing Day Walk: Nothing beats a boxing day walk with the dog who has the lead and your welly boots ready.
Owl I Want For Christmas: A plump but very cute looking owl wearing a Santa hat.
Christmas Kiss: The Hare has the mistletoe ready for a Christmas Kiss.
Christmas Cracker Duck: The Duck wants you to pull the cracker held in his beak.
Click Here For Wrendale Christmas Mugs Prices & Availability