Mugs For Couples are generally given as gifts for Anniversary, Engagements, Weddings and Christmas. Couples Mugs are sold in pairs, usually matching. Most are customisable with his and her name.
A pair of matching mugs is something a couple will appreciate and use daily. A good gift that can't go wrong unlike the notoriously bad gifts sometimes given for such occasions.
Mugs For Couples are made from Porcelain, Stoneware or fine Bone China and are available in sizes ranging from 300-500ml.
Click Here For Mugs For Couples Prices & Availability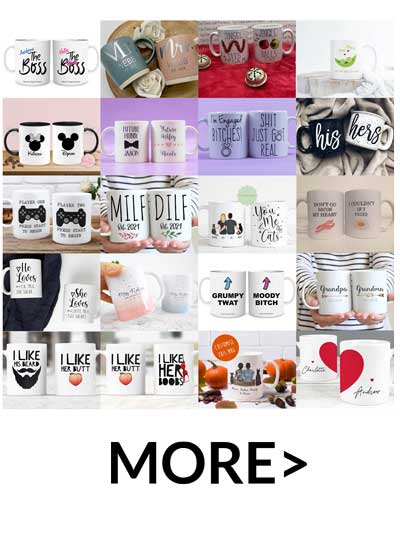 Mugs For Couples Include
The Boss
Plain white ceramic mugs with personalised blue writing for him and pink writing for her. His reads 'the boss' hers reads 'the real boss.
Mr & Mrs
Classy blue and pink mugs with 'Mr' and 'Mrs' embossed in silver customised surname below followed by 'est' and customised year.
Or
Subtle pink and blue bottom glaze mugs with purple speckles and writing Mr and Mrs (surname) and date of the wedding.
Tinsel & Jingle
A Christmas gift 'Tinsel T***s' (her name) Jingle B***s (his name) complete with tinsel and baubles images.
Two Peas In A Pod
A single mug for your boyfriend, girlfriend, wife or husband. Please do not give this mug as a gift for a couple. It's a single mug, not a pair. Reads 'like two peas in a pod' with customisable his and her name in matching green.
Mickey & Minnie
White mugs with black Micky and Minnie silhouettes and a customisable name below. Includes black handle and interior.
Future
'Future Hubby' with a bowtie on one mug, 'Future Wifey' with hearts on the other, includes the custom name on each.
Rings
White mugs with cartoon rings on each and the messages 'I'm engaged b*****s' (hers) 'S**t just got real' (his)
Campfire
Ceramic mugs shaped like traditional enamel mugs with 'his' and 'hers' in a handwritten font. Black and white colour with speckles.
Player
Written with 'Player One' and 'Player Two' featuring images of a games console controller and 'press start to begin' at the base of the mugs.
Milf & Dilf
'Milf' for her and 'Dilf' for him and est (year). Mugs for an older couple.
You, Me & The Cats
Know a couple with two cats? Well here's the perfect mugs for them. One side reads 'you, me and the cats' the other has a back-facing image of a couple sitting with their cats. Custom name for couple and cats included.
You, Me & The Dogs
Same as above but with dogs, ideal for a couple that own two dogs.
Elton John Inspired
One mug reads 'don't go bacon my heart' the other reads 'I couldn't if I fried' complete with an image of bacon rashers and a fried egg.
He Loves She Loves
One mug reads 'he loves' the other reads 'she loves' below enter their favourite drink and number of sugars (e.g. tea and two sugars).
King & Queen
Specially shaped mugs that are shaped to fit together, written with 'king' and 'queen' and have heart-shaped handles.
Grumpy & Moody
We all know 'that' couple one mug reads 'grumpy t**t' the other 'moody b***h' complete with upward-pointing arrows.
Grandparents
One for new grandparents with 'grandma' and 'grandpa' decorative gold arrows and custom 'Est' (year).
I Like
'I like his beard' complete with beard motif and 'I like her butt' complete with a peach image.
I Like Her
One for female couples, 'I like her butt' with beach 'I like her boobs' with a bra.
Hearts
Two halves of a heart, one on each mug with custom names for him and her.
More Mugs For Couples
These are just a few of the Mugs for couples on offer if you would like to see more please follow the link below.