It's nearly Christmas, and The Tea & Coffee drinkers of the UK want Christmas Mugs
For Gifts – Mugs are among the greatest gifts on the planet
For Themselves – Christmas Mugs are an essential Christmas accessory nearly as important as the Christmas Tree
The legendary Cath Kidston has us covered with a range of Christmas Mugs
All Mugs are the famous Stanley shape  made from high-quality bone china with a large 500ml capacity and a range of designs
Click Here For Cath Kidston Christmas Mugs Prices & Availability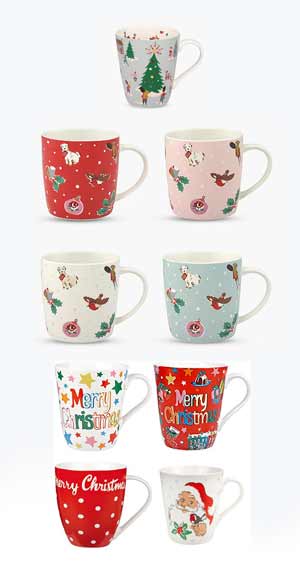 Cath Kidston Christmas Star Mug
A white mug with the words "Merry Christmas" and various coloured stars. The stars and wording are in multiple colours including Red, Blue, Yellow, Pink, Green, Red & Gold.
Cath Kidston Merry Christmas Red Mug
A Red mug with "Merry Christmas" written along the top in white and lots of white spots giving the impression of snow falling.
Cath Kidston Merry Christmas Red Star Mug
A red mug decorated with multi-coloured stars with presents, Christmas pudding, bells, stockings and snow-covered houses.
Cath Kidston Santa Mug
A white mug decorated with a picture of a smiling Santa holding a Robin with a snowy backdrop and some holly.
Click Here For Cath Kidston Christmas Mugs Prices & Availability