Dunoon Christmas Mugs are handmade in the UK from fine bone china using traditional methods.
With classic and new Dunoon shapes available in various designs, there's a Christmas mug for everyone. Whether you want some mugs for yourself this festive season or give one as a gift.
Click Here For Dunoon Christmas Mugs Prices & Availability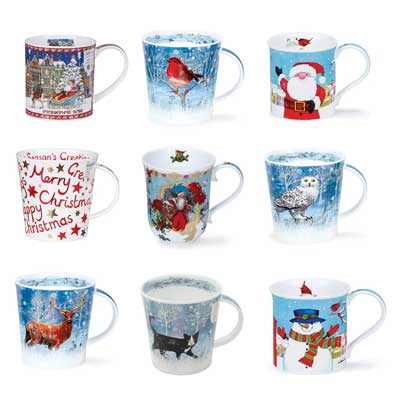 Dunoon Braemer Christmas Mug
A vintage Christmas design finished with 22-carat gold adorns the Braemer Mug, a new shape from Dunoon, a fusion of vintage and contemporary style to cater for modern trends.
Features a 330ml capacity with a flared top and curved handle.
Dunoon Bute Christmas Mugs
The Bute Christmas mug range is a traditional shape-holding 300ml. The mugs are straight throughout, with a flare at the top.
The Bute mugs are decorated inside and out with a choice of three designs.
Post Cat
Post Santa
Post Snowman
All feature snowy backdrops, letterboxes and festive colours
Dunoon Cairngorm Christmas Mugs
Dunoon Cairngorm Christmas Mugs are more significant than the Bute and Braemer with a 480ml capacity. The perfect mug for lattes with a continuous flared shape that's easy to hold.
Cairngorm Christmas designs include
Christmas Greetings
Moonbeam Cat
Moonbeam Fox
Moonbeam Hare
Moonlight Deer
Moonlight Owl
Moonlight Robin
The Christmas greetings mug is decorated with friendly Christmas messages, while the moonlight and moonbeam mugs feature a wild animal in the cool and white winter wilderness.
Dunoon Orkney Christmas Mugs
Dunoon Orkney Christmas Mugs are a 350ml capacity standard shaped mug with a consistent shape throughout.
Two mugs are available with detailed imagery of Santa in his homeland with a snowman or delivering presents to snow-covered houses. The inside of the mug and handle are decorated also.