Go down the rabbit hole with Alice In Wonderland Mugs which perfectly celebrates the much-loved novel by Lewis Carroll. Alice In Wonderland was originally published in 1865 and has never been out of print resonating well with both children and adults.
Many adaptations have been made including stage plays, radio programs, video games, films and mugs. Everyone fan has a favourite Alice In Wonderland character, and there's a Mug for most characters.
Click Here For Alice In Wonderland Mugs Prices & Availability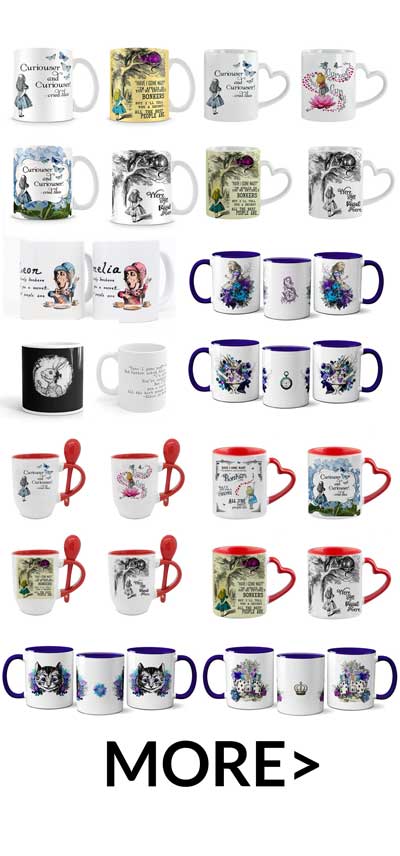 Alice
The protagonist and main character of the book. Alice, a confident young lady who's sure of her identity, and environment finds herself in the illogical and insane world of Wonderland. Alice's world is turned upside down having to undergo a lot of change in a concise space of time.
"It's no use going back to yesterday because I was a different person then." 
The Mad Hatter
Colourful, confusing and Mad, the Mad Hatter loves riddles and tea parties. The term 'mad as a hatter' comes from 19th-century hat makers who used mercury in the hat-making process. The mercury sent them 'mad'.
"People who don't think shouldn't talk."
The Queen Of Hearts
The Queen is bad-tempered and crazy an egotistic narcissist dishing out executions at the drop of a hat.
"Off With His Head!"
The White Rabbit
Alice follows the waistcoat wearing and watches owning white rabbit down the rabbit hole and into wonderland.
"I'm late! I'm late! for a very important date!"
The Cheshire Cat
A helpful but misleading character that either points Alice in the right direction or directs her to trouble.
"We're all mad here. I'm mad. You're mad."
The March Hare
The Mad Hatters companion. 'mad as a March hare' is a common saying as 'mad as a hatter'  the unpredictable host of the infamous tea party.
"You might just as well say that 'I like what I get' is the same thing as 'I get what I like'!"
The Caterpillar
Absolem, the caterpillar, sits on a mushroom and smokes Hookah. He tells Alice how to eat the mushroom that'll make her grow bigger or smaller, the wisest creature in Wonderland.
"Who Are You"
The Dormouse
The Dormouse is always falling asleep much to The Hatter's and Hare's delight so that they can use him as a cushion or armrest.
"Life, what is it but a dream?"
Click Here For Alice In Wonderland Mugs Prices & Availability