Amateur Radio an underground hobby also known as Ham radio.
Enthusiasts use radio frequency to swap message, run contests and even emergency communication.
Some very naughty Amateur Radio hobbyists also listen in onto Police radio.
Are you a Ham, Radio presenter? Or do you know someone who is?. You or your friend needs one of these mugs to sit alongside your dual band two-way radio transceiver.
Click Here For Amateur Radio Prices & Availability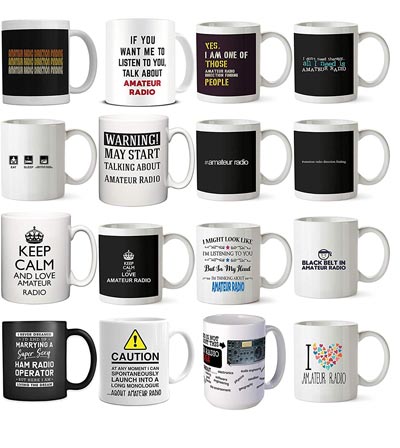 Amateur Radio Thing Mug
A grey print with black writing the message reads "Don't ask it's an amateur radio thing."
Old Hams Never Die Mug
A cartoon of an old ham on his radio equipment with the message "old hams never die."
Caution Amateur Radio Mug
A yellow caution symbol's with "Caution at any moment I can spontaneously launch into a long monologue about amateur radio."
Amateur Radio Is Knowledge Mug
A detailed mug with ham radio equipment "Amateur radio isn't about this" (an arrow points to a transceiver) "amateur radio's about knowledge."
You are then presented with a long list of what amateur radios about
Digital engineering
International Relations
Making Good Friends
Electronics
Software Engineering
Audio Engineering
Physics
Satellites
Geography
Astronomy
Languages
Television
Super Sexy Ham Operator Mug
A black mug with white writing and the message "I never dreamed of marrying a super sexy ham radio operator, but here I am living the dream."
I Might Look Like I'm Listening Mug
A white ceramic mug with a splash of pink and blue with the message "I might look like I'm listening to you but in my head, I'm thinking about amateur radio."
Keep Calm Amateur Radio Mug
"Keep calm and love amateur radio."
Hashtag Amateur Radio Mug
A simple black mug with #amateur radio or #amateur radio direction finding
Black Belt Amateur Radio Mug
A man with a grumpy face black bandana and the message "black belt in amateur radio."
I Don't Need Therapy Mug
"I don't need therapy all I need is amateur radio."
Yes I Am Radio Mug
Yes I am one of those amateur radio direction finding people
If You Want Me To Listen Mug
"If you want me to listen talk about amateur radio."
I Love My Wife Amateur Radio Mug
A black ceramic mug with "I love my wife more than amateur radio, yes she bought me this."