Many Star Wars fans will agree that Boba Fett is one of the coolest looking characters.
A bounty hunter and the genetic clone of Jango Fett spawned by the Kamino Cloners. Identical to the Grand army Clone Troopers. Boba was an employee of the notorious gangster Jabba The Hut.
He captured Han Solo in a collaboration with Darth Vader to trap Luke Skywalker. Boba Fett froze Han Solo in carbonite and took him to Jabba The Hut. Boba Fett met his end by falling into the Great Pit Of Carkoon, then eaten by The Sarlaac.
Click Here For Boba Fett Mugs Prices & Availability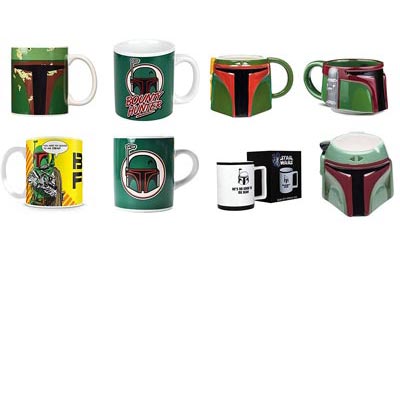 Boba Fett Mugs are extremely popular especially the three-dimensional colour mugs. Shaped into Boba Fett's head. These 3D mugs are available in various colour shades and vary in shape. Another mug has a green background with Boba's face in green, red and black with the title "Bounty Hunter". This mug is also available plain without the title.
The next mug also has Boba's face this time in black with the quote "He's no good to me dead". A reference to the scene when Han Solo's tortured. Another "he's no good to me dead" mug's available with a pop art Boba Fett.
Boba's brandishing his weapon over a yellow, and orange background. "Boba Fett" in bold black writing. The artwork on this mug looks like it's out of a comic.
Another cool mug has a minimal close-up design of Boba's face stretched over the whole mug. The Boba Fett Symbol Mug is white ceramic and written in black. "Boba Fett" is written across the top in curved writing. Boba's helmet's underneath with "Bounty Hunter". Two blasters and the skull symbol found on Boba's shoulder armour finish the design.
Remember when Boba Fett tried to shoot Luke Skywalker in Return Of The Jedi?. The next mug has a black and white photo of Boba aiming his blaster with the Slogan "you're no good to me dead".
The final design has Boba Fett and his armour symbols. Han Solo and "Bounty Hunter" this is a vibrant mug made up of purple, green and black and is a large cone shape.