The Bodum Travel Press is a portable coffee maker and travel mug/flask in one neat unit. The design allows you to enjoy the taste of pressed Coffee anywhere. Not just Coffee either, the Travel Press works equally as well with loose tea.
Bodum is renowned for their French Presses so you can rest assured the Travel Press will deliver superb tasting Coffee.
Click Here For Bodum Travel Press Prices & Availability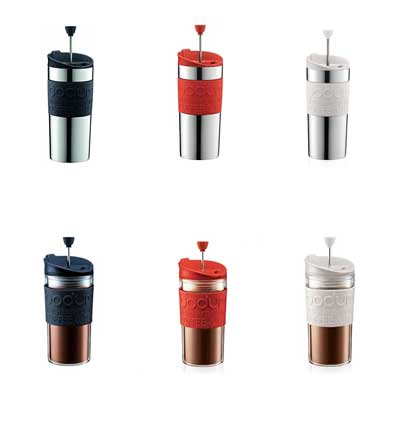 The Travel Press is constructed from double-walled stainless steel or BPA free plastic. Both will keep your coffee hot for many hours if required. The mug features a silicone non-slip band, for maximum grip complete with Bodum logo and the slogan "The fresh way to brew fresh coffee and tea" the bands are available in various colours. There is also a non-skid base.
The lid features the press and a drinking spout and is the same colour as the silicone band.
The Travel Press is top-rack dishwasher safe.
How To Use The Bodum Travel Press
Place the press on a solid surface such as the kitchen worktop.
Grind your coffee
Put 3.5 tablespoons of coffee into the Travel Press (adjust the amount of ground to individual taste)
Fill with hot water from the kettle.
Stir the coffee and close the Travel Press spout
Leave the coffee brewing for four minutes.
Press the plunger
Drink your Coffee now or save for later
Available In Colours