Bru Cups was created by the duo Yasmina & Ashley, whose mission is to help end single-use waste.
The Bru Reusable Coffee Cup was spawned. As a result, a modern-looking and reusable functional product.
The Bru Cup is double-walled stainless steel and keeps your drink hot for three hours and cold for six hours.
Click Here For Bru Cups Prices & Availability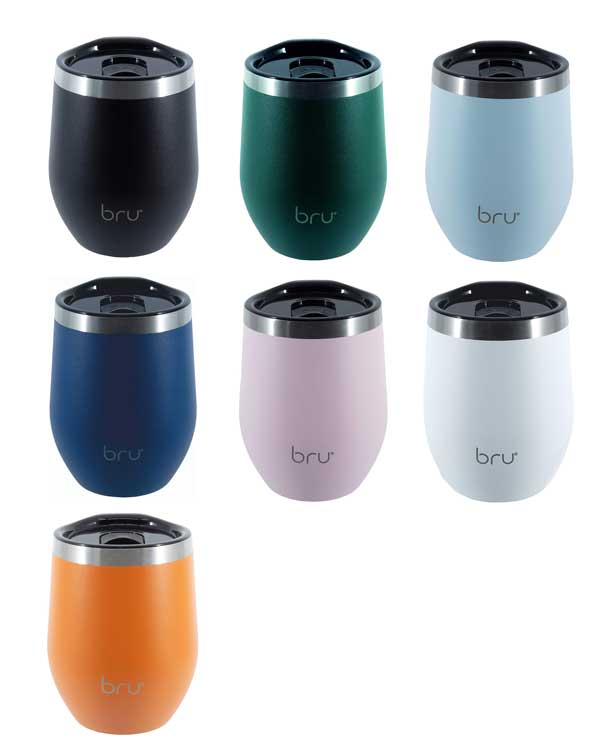 The exterior of all Bru Cups (bar one) has a durable matt powder coating. The rose gold cup has a metallic coating instead.
The cups feature Tritan lids that reduce spillages. Although they are not leakproof, some care must be taken when moving.
Bru Cups are shorter and stubbier than conventional travel mugs. A barista-approved height so you can take into any coffee shop.
Supplying your own cup, you help the environment by not using a disposable cup. You will also save yourself a few pence each time.
Throughout the Bru cups life, it will pay for itself over and over again in savings. In addition, the cup can be recycled when it's time to retire.
The Bru cup's unique shape makes it highly stable when placed on a table or other flat surface.
Bru Cups have a 340ml capacity ideal for americanos, flat whites, mochas and lattes.
The Bru Cup is dishwasher safe (except for the metallic rose gold intense cup). Handwashing is preferred, though, to prolong the life of the cup.
Bru Cup Colours Include
Blue Planet
Black Magic
Pink Flamingo
Aranya Green
Siberia White
Blue Echo
Spiced Orange
Scarlett Heart
Rose Gold Intense
The Bru Cup will provide you with many years of loyal service, and by buying one, you are doing your bit for the environment and the planet.
Bru also offers a Travel Mug.