C3PO the lovable and neurotic protocol droid from Star Wars. C3PO aided the Rebels in the deadly missions to free the galaxy from the evil galactic empire. When annoyed he could be abusive. He called R2D2 an overweight glob of grease and a nearsighted scrap pile. He called Chewbacca a flea-bitten furball, and he said Luke was quite clever – for a human. C3PO has enjoyed a long career with appearances in all the Star Wars Trilogys.
Click Here For C3PO Mugs Prices & Availability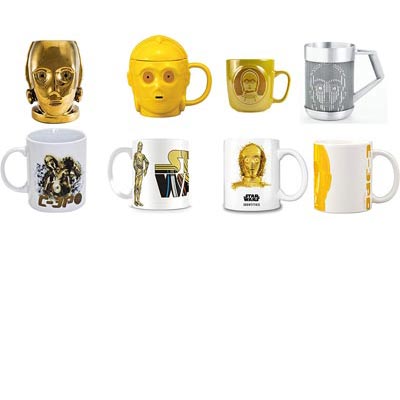 The most realistic C3PO mug looks so real it's almost scary. The mug's created from moulded ceramic which's gold plated. Huge 568ml capacity.
There's another metallic mug which is also gold in colour. Featuring a circle with 3PO's face on one side and the Star Wars logo on the other side, this mug has a 350ml capacity.
The next 3D C3PO mug is yellow and features a lift-off lid to keep your Tea or Coffee warm.
The next mug has a large Star Wars Logo coloured with C3PO's gold torso, and wires underneath. The droid himself is standing tall next to the logo.
There are also a few designs of "Droids" mugs which feature C3PO, R2D2 and BB8.
A 40th anniversary Star Wars mug with black and white imagery. C3PO at the top and 3PO and R2 at the bottom moving towards Jabba's palace on Tatooine.
For the hardcore C3PO fans is the pewter mug. C3PO's face's cut into grooves which run downwards on the body of the mug. Not cheap but is a rare collector's item that will last forever.