Camping Mugs have to survive travelling and the rigours of outdoors, therefore, standard ceramic mugs are not used by most.
Ceramic mugs will work outdoors, but they are easily breakable when manhandled. Camping equipment is generally manhandled, and ceramic mugs are commonly broke when camping, not good if there's no spare mug within your gear. Ceramic has poor heat retention when exposed to outdoor temperatures.
Materials such as stainless steel, plastic and enamel are much more suitable.
Click Here For camping Mugs Prices & Availability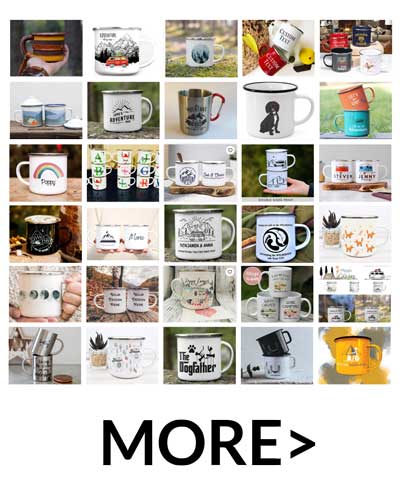 Plastic is lightweight and much harder to break than ceramic, it's lightweight but hot drinks always seem to have a plastic taste to them even when drinking from the best BPA free plastic mugs.
Stainless steel is tough and has good heat retention. Stainless Steel Mugs are great for camping. Some have carabiner clip handles so they can be clipped to rucksacks/bags.
Enamel Mugs are pressed steel with a coating of fired glass. Very strong with good heat retention a good choice for camping.
Travel Mugs are popular for camping with good heat retention properties and a lid to prevent spillage. Travel mugs are also extremely lightweight; they are, however not as durable as stainless steel or enamel.
Both stainless steel and enamel mugs are non-toxic and perfectly safe to drink from. Enamel mugs are lighter than stainless steel which is an important factor especially if hiking features in your camping trips. It's for this reason that Enamel mugs are the number one choice for campers.
Stainless Steel mugs are a single colour with no personalisation options. Enamel mugs are available in various colours and designs, and there's also personalisation options if you want to customise or give as a gift.