The lovable Chewbacca (also known as Chewie) is Han Solo's right-hand Wookie.
A smuggler, a hard as nails warrior, and resistance fighter who fought in The Clone Wars, Galactic Civil War, The Battle Of Kashyyyk, The Battle Of Yavin and The Battle Of Endor.
Chewie also helped rescue Princess Leia from the clutches of The Empire and Han Solo from Jabba The Hut.
Click Here For Chewbacca Mugs Prices & Availability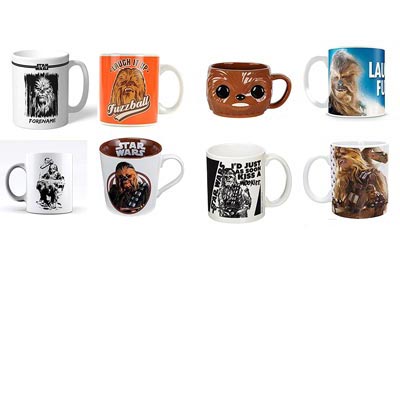 The Laugh It Up Fuzzball Mug is an orange mug with a 320ml capacity. A cartoon style pic of Chewbacca and Hans famous quote "laugh it up fuzzball". Another style mug is available with the same slogan. Black and white and a picture of Chewie and Han Solo in action.
The next mug is another cartoon style mug with Chewbacca and the slogan "Wookie Cookies".
The Pop Chewbacca 3D mug's based on The Pop Vinyl Chewbacca figure. A brown contoured face with black eyes and nose and a white mouth.
Another 3D Chewbacca mug is available that looks more realistic. A large handle and Star Wars logo on the back. The final 3D mug's styled on Chewbaccas body and utility belt.
The Chewbacca Force Awakens mug features Chewie in action with his crossbow blaster and The Millenium Falcon. The rear of the mug has The Force Awakens logo and Millenium Falcon logo.
A more humorous mug has a black and white picture of Chewbacca and the slogan "I'd just as soon kiss a Wookie".
The famous Street artist Banksy once did a mural which featured Chewbacca sitting in a barbers chair having his haircut! This mug is available in white or with a brickwork background.