Torched by fire and left limbless in a battle with Obi-Wan Kenobi. Anakin Skywalker became Darth Vader. A truly iconic villain of popular culture with the honour of the third most popular villain in cinema history.
The Darth Vader 3D Mug is a 3D sculpture shaped like Darth Vader's head, with a hole in the top to drink from. This mug is very realistic with the bonus of large 400ml capacity.
Click Here For Darth Vader Mugs Prices & Availability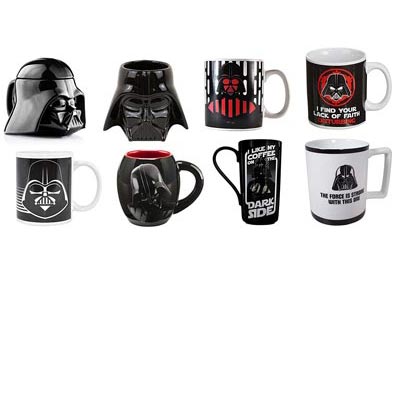 The Rogue One Darth Vader Heat Change Mug has a menacing picture of Darth Vader on one side. A picture of Orson Krennic and Death Troopers on the other. Add hot water and the Death Star in red magically appears behind Darth and Orson.
For the latte, lovers are the 500ml Darth Vader Latte Mug. A large black latte mug with an image of Darth Vader. The quote (in a Star Wars font of course) I like my coffee on the dark side.
Who could forget the legendary quote "I am your father". We have the I Am Your Father Mug a white mug with Darth Vader pointing at you and the quote "I Am Your Father".
Other quote mugs include "The force is strong with this one."
"I find your lack of faith disturbing."
For those who want a double serving is the Darth Vader Oval 500ml mug. Oval in shape and a huge capacity decorated with a realistic picture of Darth Vaders face.
There is also the Darth Vader 2D mug which has Vaders head outlined in red over a black background. For Christmas, there's the Darth Vader Christmas Mug. Red and decorated with holly and Vader sitting at a piano.