The Glencoe mug is one of Dunoon's original and most popular shapes. Visually stunning and highly detailed. They will educate and entertain you at the same time. Named after the Scottish Glen famous for its trails, waterfalls and wildlife.
The 500ml capacity is the ideal size for a large mug. Made from tough yet beautiful fine bone china with a flared top for easy drinking. There is a design for every enthusiast in many subjects.
There are fourteen different categories of designs—seventy-five different mugs to choose from in the Dunoon Glencoe Mug range.
Click Here For Dunoon Glencoe Mugs Prices & Availability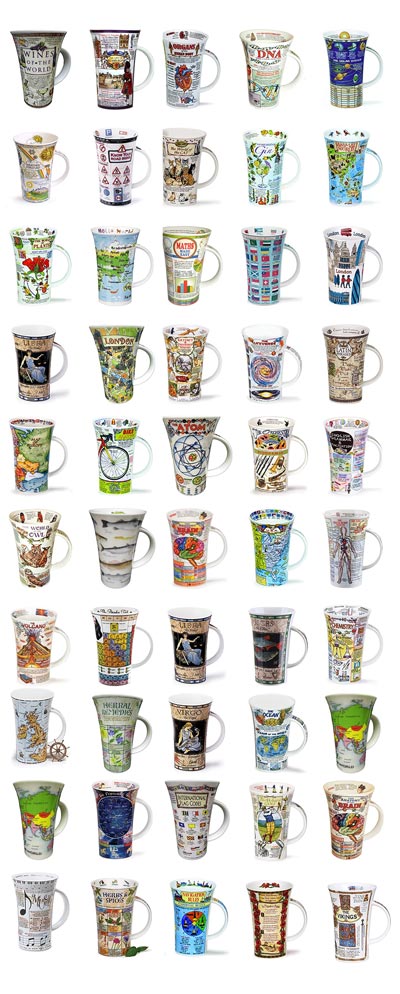 Glencoe Animals Mugs
Animal World – A colourful world map stretches around the mug. Many different illustrations of animals and fish and the areas they come from. There are a few birds on the inside of the mug for good measure.
World Of Butterfly – Learn a great deal about our favourite flying coloured insects. This mug has highly detailed illustrations of butterflies with detailed descriptions.
World Of Cat – Everything you ever wanted to know about cats on a mug. No species of cat's left out here. There is an illustration of every cat and their name on the inside and outside.
World Of Dog – The dog has been man's favourite companion for a long time. This Glencoe mug features some of the dogs from the 700 different species on the planet. With the golden retriever taking centre stage.
World Of Horse – A horse is a horse, right? Wrong there are different breeds all their own unique characteristics. This mug goes into all the different horse breeds with enough information to make you a horse expert.
Glencoe Geography Mugs
Flags Of World – A colourful Glencoe mug with all the flags of the world. Each flag includes the capital city of the country.
Iconic Britain – This mug features a bright, colourful map of Britain and our most well-known icons. Includes Big Ben, Stone Henge, The White Cliffs Of Dover and lots more.
Map Of Europe – The map of Europe on a single mug. Includes all capital cities and rivers for each European countries.
Map Of The World – The whole world on one mug! with colourful continents, countries and oceans.
Shipping Forecast – There are many different areas of the sea around the British Isles. Each of these areas has a name. Learn them all with the Shipping forecast Mug.
The Ocean – Learn about the Earths five oceans. This detailed mug includes information about whats in the Ocean. Such as icebergs, reefs and seashells.
The USA – A detailed map of America's united states includes all the states, icons, and landmarks. The flag of every state's painted on the inside top of the mug.
Weather Forecast – This mug will tell you everything you need to know about weather systems. Includes sun, clouds, winds, frosts and the water cycle.
Glencoe History Mugs
Kings & Queens – All our Kings & Queens through the ages on a decorated family tree. The mug Includes birth and death dates—illustrations of Elizabeth (both of them) and queen victoria.
Vikings – Everything you ever wanted to know about our favourite Norse invaders. This Glencoe mug Includes detailed illustrations and historical facts about Vikings.
Glencoe Human Biology Mugs
Bodyworks – This Glencoe mug clearly explains how the human body works. With diagrams and explanations of the circulatory system. Kidneys, ear, heart and every other part of the body.
DNA – The code for life this mug explains DNA structure and nanotechnology. A clear explanation of how DNA replicates and translates into proteins.
Human Body – Descriptive picture of the skeleton and human muscles every part's labelled.
Organs Of The Human Body – You probably didn't know the human body has 78 organs. Well, you do now thanks to this mug—interesting pictures of the human organs and detailed descriptions of how they work.
Periodic Table – A subtle illustration of the periodic table. Learn the order of chemical elements. Mug includes the table's creator Dmitri Mendeleev.
Teeth – The Glencoe mug for dentists! Mug includes all 32 adult teeth, the sequence of eruptions and dental formulas.
Brain – The brain the most mysterious part of the human body, well not anymore! Learn the full anatomy of the brain with this clearly illustrated mug.
Glencoe Language Mugs
English Grammer – Nearly everyone's grammar and punctuation needs improvement. This mug explains everything you need to brush your skills up. Includes adjectives, plurals, proper nouns etc.
Hello World – Every language has its own 'hello' word. The hello-world mug tells you how to greet people in different countries. Greetings include G'day, Kia Ora and many other weird and wonderful hello's
Know Your Road Signs – A massive edge when it comes to passing your driving test. This mug features all the UK road signs including the dreaded speed camera.
Latin Phrases – Our language came partly from Latin. This roman themed mug features Latin phrases alongside their English counterparts.
Maths Made Easy – Maths is easy nowadays thanks to all the free tools on the internet. Learn how to do maths properly with the maths made easy mug. Features pie graphs, bar charts, and frequency polygons.
Glencoe London Mugs
London 15 – Iconic landmarks of London with Buckingham Palace, tower bridge, the Gherkin, and the London bus.
London Montage – A colourful montage of London with tower bridge, changing the guard and nelsons column.
Tour Of London – A colourful map of London which guides you through the streets and shows you all iconic landmarks.
Glencoe Music Mugs
Music – This mug is a complete guide to musical notes. Now you will know your quaver from your demisemiquaver and your scale from barlines.
The Orchestra – Features all the instruments from an orchestra. Stage positioning's explained with a detailed illustrated diagram.
Glencoe Natural Sciences Mugs
Chemistry – A highly detailed mug on the subject of chemistry. Mug includes descriptions of equipment, additions, displacement desiccation, crystallisation and lots more.
Rocks & Minerals – Who thought rocks could be so exciting! Detailed pictures of the planet and all the rocks and minerals that make up the earth's crust.
The Atom – This mug features atoms and electrons, protons and neutrons, quarks and antiquarks. Finally the large hadron collider.
The Universe – A clear explanation and illustrations of the universe feature on this Glencoe mug. "The universe is an all existing matter and space which has been expanding since it's creation in the big bang."
The Volcano – Learn all the layers of a Volcano and how one erupts. This mug also features lovely pictures of some famous volcanos from around the globe.
The World Of Plants – The plant's full cycle from seed to plant. Illustrations include what a plant needs and all the parts of a plant.
Glencoe Nautical Mugs
Freshwater Fish – The perfect gift for the inland fisherman with all the UK's favourite freshwater fish. With brown & rainbow trout salmon, perch, tench and the little stickleback.
Golden Age Of Sail – A magnificently illustrated and detailed mug of a classic warship. Mug includes a cross-section diagram and details of historic maritime expeditions.
Navigation Rules – A mug for your sailor friend to remind them of the rules when sailing in the ocean. All relevant nautical symbols, signs and cardinal buoys included.
Sailboat Anatomy – The sailboat's made up of many different parts. This mug dissects them all and displays them clearly in a beautiful illustration. Sail types included on the inside.
Sea Fish – Includes the UK's best-known Sea Fish like the bass, mackerel cod and lots more. A must for any sea angler.
Glencoe Plants Mugs
Herbal Remedies – Many plants in our back garden are full of healing properties. This mug illustrates these useful plants. Includes Camomile, Periwinkle, Echinacea, Valerian, Evening Primrose and Red Clover.
Herbs & Spices – Includes all major herbs: Sage, clove, dill, ginger chive etc., their country of origin and their medicinal uses.
Wines Of The World – This mug is a complete lesson in the history of wines throughout the world dating back to 6000 bc.
World Of Gin – Learn everything there is to know about gin! The distillation methods, best garnishes and the history of this popular drink.
Glencoe Scotland Mugs
Castles Of Scotland – The best castles of Scotland illustrated on this mug with descriptions. Urquhart, Eilean Donan and Edinburgh Castle are all included.
Clan Tartans Of Scotland – This mug has all the tartans from the various clans of Scotland. Includes Fraser Of Lovat, Lindsey, Mackenzie, Hunting Stewart and many more tribes.
Edinburgh – Educate yourself on Edinburgh this Glencoe mug. Illustrations and descriptions of Charlotte Square, Edinburgh Castle, Forth Rail Bridge, The Edinburgh Tattoo and lots more.
Historic Scotland – Scotland has an exciting history with some interesting characters like Robert The Bruce and William Wallace. This mug tells you their story along with other interesting Scottish histories.
Scottish Whisky – Scotland wouldn't be Scotland without whisky. This mug celebrates the favourite Scots drink with drawings and fascinating facts.
Tour Of Scotland – A colourful map of Scotland. Famous landmarks and icons such as Loch Ness, Ben Nevis, The Armadillo and lot are more. The inside of the mug includes the bonus of maps of the Forth and Clyde and Union canals.
Glencoe Space Mugs
Night Sky – A fascinating look at star constellations and black holes. Includes a detailed map of the northern sky.
Solar System – A beautifully illustrated mug of our solar system. Descriptions of the planets including scientific facts, diameters and surface gravity.
Space Exploration – Everything you ever wanted to know about our adventures in space. Includes the first man and dog in space with rockets, space probes and more.
Glencoe Sport Mugs
Ballroom Dancing – All ballroom dances and moves on a single mug. Includes the waltz, mambo, rumba and salsa with a brief history of ballroom dancing.
Bike Anatomy – Learn how a road bike's made up with illustrated bike parts and descriptions. Includes biking accessories on the inside of the mug.
World Of Bike – This mug features many different bike designs from around the world. Illustrations of cycling equipment are included.
World Of Cricket – An accurate diagram of a cricket pitch and all the positions of the players. Includes cricket facts—a great gift for any cricket fan.
World Of Golf – Learn how to master the perfect swing, all the different golf clubs, scoring, and major golf tournaments.
Glencoe Zodiac Mugs
A mug for every different Zodiac sign from Aquarius to Virgo. Each mug's embellished with 22-carat gold. Descriptions of the signs dates, origins and meaning.