The Dunoon Henley Mugs are the largest in the whole Dunoon range with a whopping 600ml capacity. The Henley mug is perfect for latte lovers with a height of 146mm and a diameter of 93mm.
As you would expect from Dunoon, there are many bright and colourful mugs. Everyone is unique.
Made from fine bone china, the mugs have curved sides and are easy to hold with the strap handle.
Click Here For Dunoon Henley Mugs Prices & Availability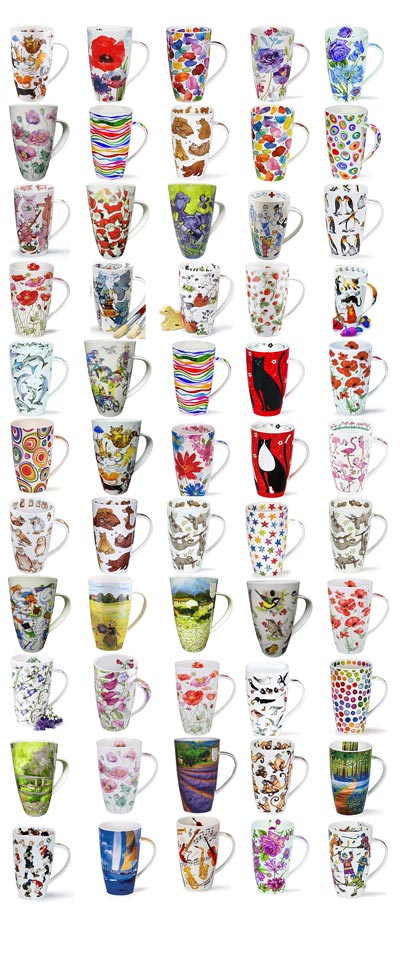 Henley Artists Gallery Mugs
Impressionists Mugs – Three mugs inspired by impressionists Vincent Van Gogh and Monet.
Cafe – features a busy cafe night scene with warm and inviting light coming from the cafe.
Irises – This mug's covered in a lovely painting of blue irises.
Poppy – A lady is carrying an umbrella on a hot day in a poppy field.
Paysage Mugs – Designed by Hazel Barker in an impressionist style. Three mugs with Mediterranean scenes. A poppy field, a lavender field and a sunflower field.
Romantisch Mugs – Swirly patterns and striking figures. Inspired by the work of Gustav Klimt.
Ages – Features a woman comforting her child the other.
Kiss – The kiss mug features a robed couple kissing.
Henley Blobs Mugs
Colourful and straightforward blobs and shapes make up these designs by Caroline Bessey.
Blobs Blue -The blobs blue mug's made blue with purple, yellow and green.
Blobs Red – The blobs red mug's red with pink, yellow and blue.
Henley Christmas Mugs
Two fun and amusing Christmas mugs.
Santa – The Xmas Galore Santa mug features many Santas having a Christmas party.
Snowman -The Xmas Galore Snowman mug has lots of snowmen singing dancing and having fun.
Henley Comical Animal Mugs
A collection of mugs of our favourite animals
Barking Mad – A fun collage of dogs up to mischief by Cherry Denman.
Dogs Frolics – A variety of dogs play with a large string of sausages.
Flamboyance – A colourful mix of pink flamingos.
Flippin Fun – Blue and grey dolphins dip and dive on this playful mug.
Grizzlies – Relaxing and sleeping bears enjoying time with their cubs.
Ice Pack – Penguins and chicks having fun on the ice.
It's A Sloths Life – Lazy sloths doing what they do on their branches.
Pussy Galore – Cat's and mice playing together in harmony
Raining Cats & Dogs – Cats and Dogs fall from the sky with raindrops, bones and balls of wool.
Twitters – Friendly Owls and Owlets
Henley Comical People Mugs
A collection of comical characters decorated on a Henley Mug
Doctors & Nurses – A fun depiction of doctors and nurses with a patient also. Bandages surround the mug.
Flexible Friends – A must for any yoga teacher with many different yoga moves and fails.
Ice Hockey – Ice hockey is an exciting and brutal sport. This mug captures all the action and injuries of the fastest contact sport on the planet.
Kick-Off – A celebration of football. Includes an angry ref throwing his red and yellow cards.
Spellbound – Witches chaotically flying on their broomsticks. Mug includes pumpkins, bats and learner plates.
Tackle – A fun design of all the tackles in Rugby. Your Rugby fan friend will love this mug!
Tuning Up – A busy orchestral assembly with beautiful moments and the mishaps.
Henley Flowers & Nature Mugs
A collection of mugs with wild and garden flowers in a range of colours
Dovedale – Dragonflies on a harebell background or ladybirds on a strawberry background.
Wild Garden – Red pink and blue flowers or yellow-orange and pink flowers.
Magnolias – dark pink or light pink flowers
Shaftsbury – Blue & purple blooms or pink and purple blooms.
Poppies – Three mugs to choose from with Red, pink or mixed poppies.
Sweet Peonies – Pink and white peonies
Roses – A bouquet of pink and red roses by Aileen Morely
Sweet Peas – Pink, purple and white sweet peas on a white background.
Wayside – A collection of wildflowers and bees and butterflies.
Henley Hearts, Spots & Stars Mugs
Four different Henley Mugs with designs made up of Hearts, Spots and Stars
Hot Spots – Multicoloured watercolour spots using red, green, yellow, pink, purple and blue.
Razzmatazz – Multicoloured oval rings melded together to make this visually pleasing design.
Star Burst – Multicoloured Stars on the inside and outside of the mug.
Warm Hearts – A collection of loving Multi coloured hearts.
Henley Hoofers Mugs
A collection of Henley Mugs by artist Cherry Denman featuring hoofed animals.
Hoofers Cow – Happy cows and their farmyard friends
Hoofers Horse – Happy horses are eating carrots among cats and mice.
Hoofers Sheep – Hoofed sheep and lamb alongside chickens, bees and butterflies.
Henley Instrumental Mugs
Instrumental – A guitar, violin, saxophone and trumpet on a musical score background.
Henley Tall Tails Mugs
A pair of cat mugs with swirl and flower patterns. A choice of a black or black & white cat.
Henley Trouble Makers Mugs
Features a troublesome pig causing havoc among the fruit and vegetables.