The Ember Mug is the world's first Smart Mug that allows you to control the temperature via an app on your device.
Nowadays everything is 'Smart' our phones, watches, lights, speakers, central heating etc. Now we have the Ember Smart Mug, another valuable device to connect to a network and operate remotely.
Click Here For Ember Mug Prices & Availability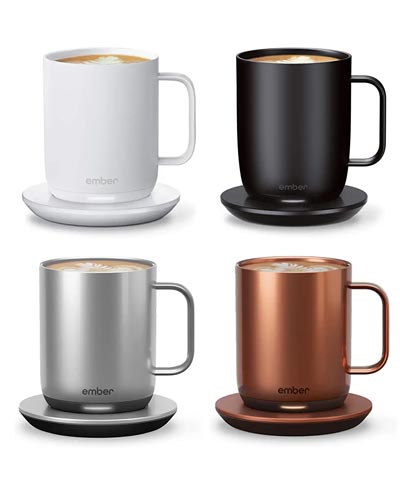 Why Use An Ember Smart Mug?
Everyone has their preferred temperature when consuming Hot drinks, which varies from person to person.
Hot drinks are too hot when freshly made, so in days gone by, we had to let them cool to the appropriate temperature. Often we get distracted by a phone call or email, and when we return to our drink, it has got too cool and is not a pleasant temperature to drink.
The Ember Coffee Mug is the solution.
The Ember is the first of its kind, a temperature control mug which allows you to set your preferred temperature from the app on your device.
The mug keeps the temperature constant for between 80-90 minutes—more than enough time to consume your whole drink at your favourite temperature.
Your drinks are never too hot or too cold. The mug indicates that when your set temperature has been reached with a built-in Smart LED, you'll also receive a notification on your phone.
Boil the kettle, pour the water, stir your drink, and the Ember Smart Mug will do the rest.
Ember Mug Features
The Ember is an intelligent self-heating Mug controllable from an app downloaded onto your Smart device
The Ember will maintain drink temperatures between 50-62.5°C. Set your desired temperature via your app
The Ember Mug includes a built-in preset that heats and keeps the drink at 57°C for those who don't have a Smart device
A Smart LED and app notification notify you when the drink is at your set temperature and ready to consume
The Ember Mug is available in the sizes 295ml and 414ml
The mug includes a built-in battery which lasts 90 minutes for the 295ml mug and 80 minutes for the 414ml mug
Includes a charging coaster to keep your Ember Mug charged all-day
The Auto Sleep function intelligently senses when the mugs are not in use and turns it off
The Ember Mug is available in the colours Grey, White & Black
Special Edition metallic colours of Gold, Steel, Copper and Rose are also available
An Ember Travel Mug and Cup (smaller capacity of 178ml) is also available
Are There Any Disadvantages To The Ember Smart Mug?
Overall the Ember Mug is unique, offering features that no other mug does. There are, however, a couple of small downsides.
An Ember Mug costs more than a standard mug, but this is true for all Smart Technology.
Ember Mugs cannot be used in the microwave, which will cause significant damage. With the temperature control features, you should never need to reheat your drink anyway, so not a significant concern.
Click Here For Ember Mug Prices & Availability