The Ember Travel Mug allows you to keep your hot drinks at your prefered temperature while on the go.
Ember was the first to bring the Smart Mug concept to market, and now they offer a Smart Travel Mug.
The Ember Travel Mug allows you to set your prefered drinking temperature between 50°C – 62.5 °C. Once set, the mug will keep your drink at your perfect temperature for up to 3 hours.
Your drink is never too hot or cold. It is the exact right temperature from opening the travel mug to finishing your drink.
Click Here For Ember Travel Mug Prices & Availability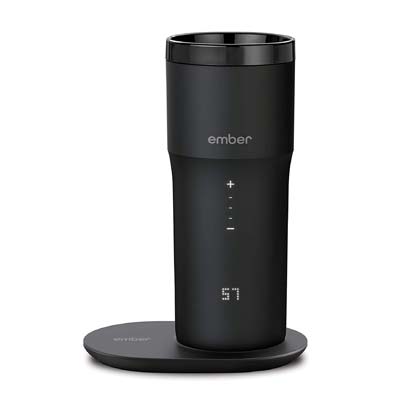 How It Works
First, charge your Ember Travel Mug with the charging coaster (provided with the travel mug). Next, pour in your hot drink and set the temperature.
The temperature can be set on the mug or via the Ember App downloaded onto your smart device.
The mug has '+' and '-' touch display settings on the side to set your preferred temperature.
Alternatively, download the ember app to your smart device and connect via Bluetooth.
Set your preferred temperature with the app, and it will notify you when the temperature has been reached.
The app also allows customised presets for your drinks if you like different temperatures for different drinks.
Other Ember Travel Mug Features
The Ember Travel Mug has a range of useful other features.
360° Leakproof Lid
The Ember Travel Mug has a built-in 360° Leakproof Lid. Push to open and drink from any direction. The lid never leaks and is easy to clean. You can even put the lid in the dishwasher (do not put the mug itself in the dishwasher)
Auto Sleep
The built-in Auto Sleep function intelligently senses when the mug's not in use and switches it off.
3 Hour Battery Life
The battery lasts three hours, more than enough time to consume your hot drink at your preferred temperature. Leave the travel mug on the charging pad to keep it charged all day.
No Smart Device Required
The Ember Travel Mug can be used with or without a Smart Device and is compatible with most Apple and Android devices.
Ember Travel Mug Capacity, Dimensions & Weight
355ml Capacity
20 x 8cm
431.5 Grams
Ember Travel Mug Colours
At present, the Ember Travel Mug is available in Black.