Every mug is handmade in the Emma Bridgewater pottery in Stoke On Trent. Back in 1985, Emma wanted to buy her mother a birthday present. Some cups with loving messages. After failing to find what she was looking for in a high street china shop, Emma realised that sometimes the only way to get you to want is to make it yourself.
Emma Bridgewater Pottery was born spawning these high-quality large mugs in the process.
Emma Bridgewater 1 Pint Mugs have a large 480ml capacity. You will need two tea bags to make a brew.
Made from English Earthenware, these mugs are Dishwasher and Microwave safe.
Click Here For Emma Bridgewater 1 Pint Mug Prices & Availability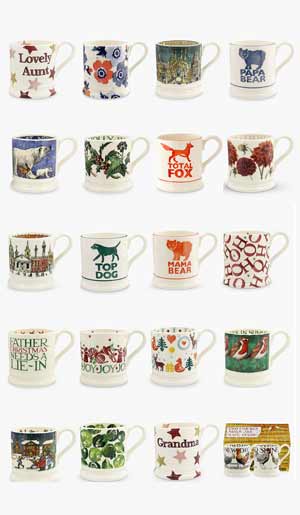 There are many designs available in the 1-pint mug range, here are some examples
Garden Birds – A row of garden birds perched on a branch. Mug includes Mistle Thrush, Blackbird, Song thrush, Pied Wagtail, Grey Wagtail, House Sparrow, Nuthatch, Redwing, Field Fare and Ring-Necked Parakeet.
Hen & Toast – Every UK Hen 's decorated on this mug, includes'Crow About' written on the inside.
Game Birds – A Pheasant, Snipe, Black Grouse, Red Legged Partridge, Grey Partridge, Red grouse and a Woodcock's decorated on this mug.
London – A watercolour decorated mug of Londons landmarks. With Big Ben the Tower of London, Buckingham Palace and more.
Venice – A night scene of Venice painted on the inside and outside of the Mug.
New York – A night scene of New York City painted on the inside and outside of the Mug.
Click Here For Emma Bridgewater 1 Pint Mugs Prices & Availability