Get back into nature with the Emma Bridgewater Bird Mugs. A large range of handpainted designs featuring birds found in your garden and out in the wild.
You can match a mug to your favourite bird or build a collection of different birds. Bird mugs are a must for Bird lovers, watchers and nature enthusiasts. A perfect addition to any country themed kitchen.
Bird Mugs are made from locally sourced English Earthenware at the Emma Bridgewater Pottery in Stoke On Trent.
Bird Mugs have a generous 300ml capacity.
Mugs are microwave and dishwasher safe.
Handwashing's recommended maintaining colour.
Click Here For Emma Bridgewater Bird Mugs Prices & Availability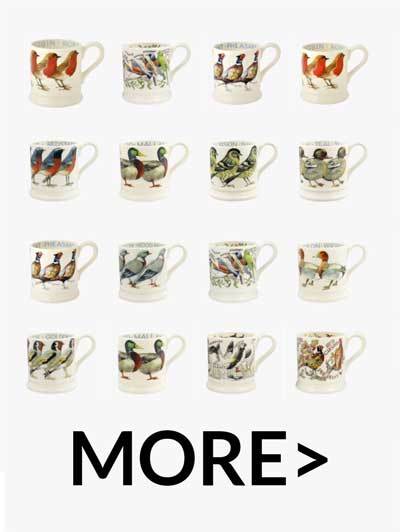 Barn Owl – The Barn Owl mug loves to roost on kitchen shelves high above the ground.
Blue Hen – Classic handprint style featuring blue patterns and hens.
Chaffinches – A ubiquitous bird can be seen and heard in most British gardens.
Chicken – sixteen different and colourful Chickens are featured on this mug.
Crane – Cranes are very rare in the UK now you can see them every day with this mug.
Divers & Grebes – Featuring all the great diving birds found on our lakes and rivers.
Game Birds – This mug features the seven different Gamebirds including Pheasants and the Grouse.
Garden Birds – Ten birds that you'll find in your garden ranging from the House Sparrow to the Pied Wagtail.
Goldcrest – A mug to celebrate the UK's smallest bird.
Goldfinch – A delightfully colourful bird with a long beak, a frequent visitor to garden bird tables.
Kingfisher – A colourful bird that eats fish and symbolises love and prosperity.
Mallard – Shiny green-headed mallards are typical of those found on our ponds and lakes.
Peacock – Decorated with colourful handpainted Peacock feathers.
Penguin – Fat Penguins huddling together in a snow storm.
Pheasant – Featuring male Pheasants more colourful than their female counterparts.
Pochard – A rare colourful sea bird with a black and white body and redhead.
Puffin – A colony of Puffins their colourful beaks really stand out.
Redstart – Smart looking old world birds that are uncommon in the UK.
Robin – Robin redbreast everyone's favourite garden bird.
Rooster – A solid red print of crowing Roosters under the starlight.
Sea Birds – All the UK's great Seabirds on a single mug.
Siskin – A small colourful bird that belongs to the finch family.
Teal – Rare and majestic looking, the smallest ducks in the UK.
Woodcock – Woodcocks visit the UK in winter escaping the harsh conditions of Finland and Russia.
Wood Pigeon – The UK's most common Pigeon you can see them anywhere.
Click Here For Emma Bridgewater Bird Mugs Prices & Availability