An Emma Bridgewater Dad Mugs is the perfect gift for Fathers Day, Christmas and Birthdays. Otherwise, you may want to give your Dad a gift to say thank you.
Your Father will get many years of enjoyment from his 'Dad' mug, made from high-quality English Earthenware, from locally sourced clay at the famous pottery in Stoke On Trent.
Dad Mugs are available in various designs with a 284ml capacity and are microwave and dishwasher safe.
Emma Bridgewater Dad Mug Designs Include
Polka Dot – Emma Bridgewaters most renowned design featuring multi-coloured dots and red wording.
Blue Stars – Littered with blue stars and writing.
Personalised – Personalise a Polka Dot or Blue Stars Mug with your Dad's name.
The Best – Written with 'My Dad is the best' in blue.
Papa Bear – With bear print, stripes and 'Papa Bear' writing.
Daddy Cool – Nothing is cooler than a penguin print mug.
Silver Fox – Ideal for the older, greyer Dads.
Click Here For Emma Bridgewater Dad Mugs Prices & Availability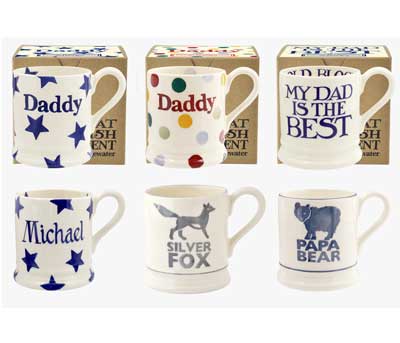 The Daddy Mug
The Emma Bridgewater Daddy Mug is the perfect gift for fathers day. All Dad's will appreciate this mug as a gift from their children.
The Daddy Mug's available in two classic Emma Bridgewater designs
Both need no introduction each Earthenware mug features the classic Polka Dots or Blue Stars with 'Daddy' printed in matching Red or Blue.
Daddy mugs are microwave and dishwasher safe
Click Here For Emma Bridgewater Daddy Mug Prices & Availability