Emma Bridgewater has created a delightful range of flower mugs to brighten up you home. Real flowers are temporary a flower mug is forever giving you joy every time you take a sip.
For centuries flowers have been given as gifts, especially at events such as birthdays, funerals, anniversary and as a 'get well soon' gift. Flowers have meanings and express certain emotions. It's for these reasons that the flower mugs make a suitable gift.
Click Here For Emma Bridgewater Flower Mugs Prices & Availability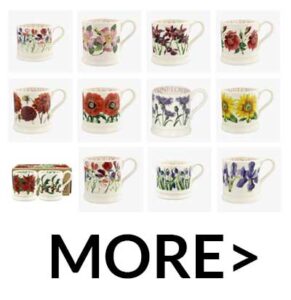 Emma Bridgewater Flower Mugs Include
Blue Iris – Faith and hope, named after the Greek rainbow Godesss 'Iris'
Cornflower – Represents wealth and abundance
Dahlia – Representative of strength, the Dahlia is a strong flower that survives in harsh environments
Dog Rose – You know spring is here when the Dog flower blooms, one of the first flowers to come out
Orchid – The Greeks believed the Orchid represented virality we believe it shows femininity and happiness
Red Anemone – Dark meanings in Greek, Christian and eastern cultures but in western cultures represents romance and love
Red Rose – The perfect mug for a valentines gift representative of love and romance
Scylla – Loyalty and faithfulness one for your best friend or spouse
Snowdrop – The white symbolises rebirth and new beginnings
Sunflower – The Sunflower shows joy, a mug that'll cheer anyone up
Sweet Pea – The sweet pea means 'goodbye' and 'thank you' a great leaving present for a departing friend or colleague
Winter Flowers – Holly and Poinsettia mugs are traditional Christmas flowers ideal for the festive season
All mugs feature a handpainted design and wording in a subtle pink on the inside rim. Mugs are the classic Emma Bridgewater shape and made from English earthenware.
Click Here For Emma Bridgewater Flower Mugs Prices & Availability