Emma Bridgewater Mum Mugs are the ultimate gift for your mother, A mug she'll use daily and appreciate for many years, thanks to the solid Earthenware construction made from locally sourced clay.
Mum Mugs all have 'Mum' or 'Mummy' wording and are available in a range of classic Emma Bridgewater designs. Ideal for Mothers Day, Christmas, Birthdays and as thank you gifts.
Mum Mugs are microwave and dishwasher safe
284ml Capacity
Click Here For Emma Bridgewater Mum Mugs Prices & Availability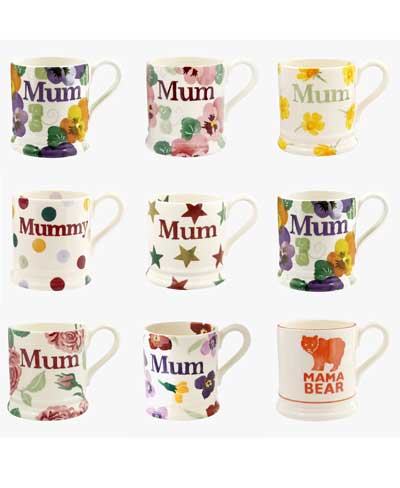 Emma Bridgewater Mum Mug Designs Include
Polka Dot
The most famous Emma Bridgewater design featuring multi-coloured dots hand-printed onto the Mug with a sponging technique before glazing.
Pansy
Choose the pink or purple Pansy. Both designs feature tinges of green and yellow. Pink pansies symbolise fidelity, while purple pansies symbolise memories.
Buttercup
The Buttercup Mug is one of the more subtle Mum mugs decorated with lovely yellow buttercups and light green writing. Buttercups represent charm and neatness.
Wallflower
The Wallflower Mug is decorated with red, yellow, light and dark purple wallflowers with pale green leaves.
Roses
Roses represent gratitude and longevity. As such, the pink rose mug makes the perfect mothers day gift.
Stars
Your Mums a star, and the Star Mug is perfect for her. Printed with red, green and gold stars.
Hearts
Show your mum you love her with the hearts Mug emblazoned with striking pink and red hearts.
Click Here For Emma Bridgewater Mum Mugs Prices & Availability