A Mug is a lovely gift to present to your Dad on Father's Day, which is on Sunday 19th June 2022.
Fathers Day originated in America in 1910 in a small town in Washington. Initially, the Day was dismissed by many as, back then, men were the ones who bought home the bacon. As such, Father's Day was considered a joke.
This attitude didn't last long. Fathers Day became a national holiday in various countries within three decades and was commercialised with cards and gifts.
Fathers Day Mugs are a trendy gift to give, one your Dad will appreciate and likely use daily.
Here are some of the best mugs to give this fathers day.
Emma Bridgewater Wonderful Dad Mug
This English earthenware mug by Emma Bridgewater is written with green, blue and orange writing inside and out, complete with stars.
The messages include
"Bad jokes, terrible dancing, wonderful Dad", "Flustered Chef, sports addict, kind taxi driver", and on the inside ", love you, Dad."
The mug has a half pint capacity.
---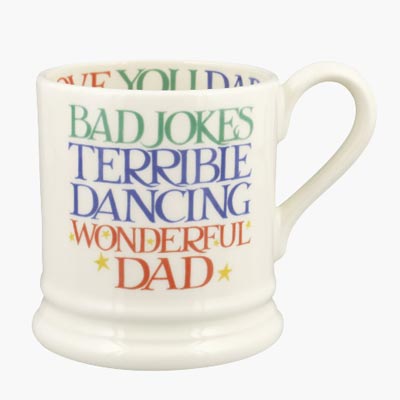 Emma Bridgewater Personalised Cocoa Mugs
If you want to give your Dad something more customised and personal, consider an Emma Bridgewater Personalised Cocoa mug.
More significant than the standard mugs with a 430ml capacity, choose a design, then add your Dad's name or message (up to 30 letters)
There are various designs to choose from, including Golf, Fishing, Liquorice Allsorts, Skiing, Blue Stars, Gardening, and more.
---
If Dad Can't Fix It Mug
Is your Dad excellent at DIY? is he always fixing things for you and your family? If yes, then get him this mug.
Decorated and cleverly written in tools such as hammers, spanners, pliers and more, it reads "If Dad Can't Fix It Were All Screwed."
A standard-sized, white ceramic mug with black and red words and images.
---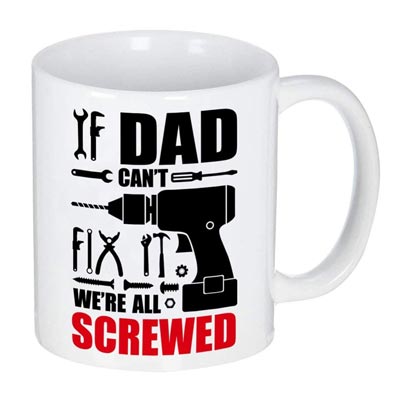 Keith Brymer Super Dad Bucket Mug
One for the 'Super Dads' A Bucket Mug from Keith Brymer Jones with a large 350ml capacity and hand-stamped green typewriter font.
The mug is Microwave and Dishwasher safe and the ideal size and shape for large teas, coffees and other hot drinks, whichever Dad prefers.
---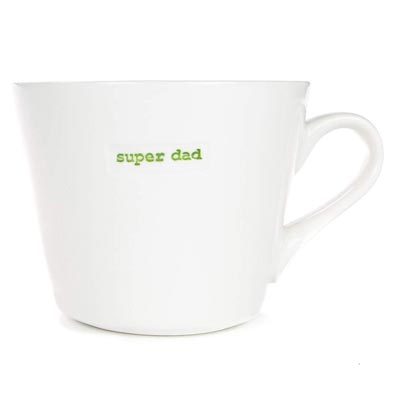 The Big Mug Of Dad Jokes
A handmade jumbo mug with a 440ml capacity written with 'Dad' Jokes.
The Dad joke mug includes 15 jokes, such as
"Don't trust atoms. They make up everything!"
"I just got a bag of dead batteries from the shop, free of charge!"
"What does a sprinter eat before a race? nothing they fast!"
"Why are fish so easy to weigh? they come with their own scales!"
Plus another 11 Dad Jokes.
---