Han Solo smuggler turned resistance fighter. He played a major role in the downfall of the Galactic Empire. He was also for a time decoration in Jabba The Huts palace. One of the main and probably coolest characters who more than deserves his range of Star Wars Mugs.
Click Here For Han Solo Mugs Prices & Availability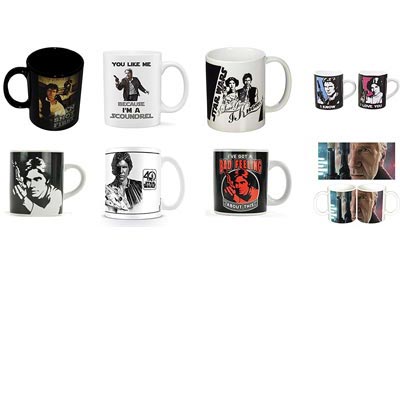 The Han Solo & Princess Leia Mug features black and white pop art style images of Han Solo (one side) and Princess Leia (the other side). Princess Leia – "I Love You" Han Solo – "I Know".
Another matching pair of "I love you, I know" mugs are available in white ceramic with black pictures. The "I love you mug" has Leias famous A New Hope hairstyle the "I know mug" has an image of Han's blaster.
The next mug features Han Solo pointing his blaster with the statement "You like me because I'm a scoundrel".
A similar design is also available on a black mug with Han in red and the famous line "I've got a bad feeling about this".
Remember when Han shot Greedo in the Mos Eisley Cantina?. This mug has Han sitting down all relaxed before the shooting with the statement "Han Shot First".
If you want something more descriptive the next mug has Han shooting his blaster. Captioned "Han Solo Captain of The Millenium Falcon". "Scoundrel, Smuggler, Nerf Herder" the design's printed both sides.
For the Star Wars 40th anniversary, a mug with a black and white print of Han Solo and The Millenium Falcon. An official Star Wars 40 logo's included; this mug is also gift-boxed.
The "Never tell me the odds" mug has a striking black and white image of Han Solo.
The Starbucks parody Han Solo mug has the Starbucks logo. "Star Wars" Replaces "Starbucks". So it reads "Star Wars Coffee" and a picture of Han Solo in the middle.
The Han Solo Force Awakens mug. For those of you who prefer an older Harrison Ford. A very close up photo of Han Solo and his blaster close to his face pointing up in the air.
The final mug is The Han Solo Wanted mug. White ceramic with a western-style Wanted Poster. A picture of Han Solo including his description, affiliations, wanted for and of course the reward.