Le Creuset is a firm kitchenware favourite in Europe and across the globe. The very best French craftsmanship isn't just for the home, experience it on the go with The Le Creuset travel mug.
The perfect solution to enjoy your favourite hot or cold drinks while you're out and about.
Made from stainless steel, with a double-membrane design to retain heat combined with vacuum sealing will keep your drinks hot or cold for hours.
Features
Made from high-quality stainless steel
The flip-top lid allows clean and easy sipping.
The base features a non-slip grip which prevents accidents.
Le Creuset travel mugs have a 350ml capacity, the perfect size for the best tea or coffee.
Available in your favourite Le Creuset colours which include the iconic volcanic, marseille blue, teal and cerise.
Plastic parts constructed from high-quality, BPA free plastic.
All travel mugs include a 5-year guarantee.
Click Here For Le Creuset Travel Mugs Prices & Availability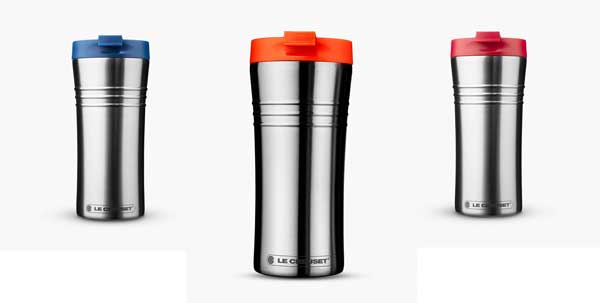 How To Use
Make your hot or cold drink and screw the lid tightly to close. Ensure the top's closed until you want to drink.
Click open flip-top when you want to drink. Click to close the mug and secure from leaking when moving.
The stainless steel construction means this mug is not suitable for the microwave or the dishwasher. Please hand-wash so your travel mug will last you for years to come.
Do not fill over the internal thread lines. Otherwise, water will displace, and you might burn your hands.
About Le Creuset
Le Creuset means 'the cauldron' in French. The company used cauldrons to make cast iron enamel pots when they started back in 1925.
Le Creuset grew over the years moving into kitchen utensils. Production carried on during the war, even when France was invaded and occupied the Le Creuset kept making their cookware products.
After the war, new kitchenware products appeared, and the company kept on growing.
Machinery discontinued manual casting methods in the 1960s to make the process semi-automatic nevertheless all products retained a handmade element even to this day.
By the mid-90s Le Creuset had grown into a global company and now serves over 60 countries worldwide.