Luke Skywalker the ultimate Star Wars hero. Luke's the main protagonist of the original Star Wars films. Every young boy in the late 70's and early eighties wanted to be Luke Skywalker. The Jedi Knight who rescued his sister Leia Organa from Darth Vader. Blew up the first death star and lost his hand in a battle with Darth Vader.
Later on, he rescued his friend Han Solo and sister (again). This time from the clutches of the grotesque gangster Jabba The Hut. Finally Luke turned his father from the dark side of the force and later on went to found The New Jedi Order. Celebrate your love and admiration for the ultimate Jedi Knight with this range of Luke Skywalker mugs.
Click Here For Luke Skywalker Mugs Prices & Availability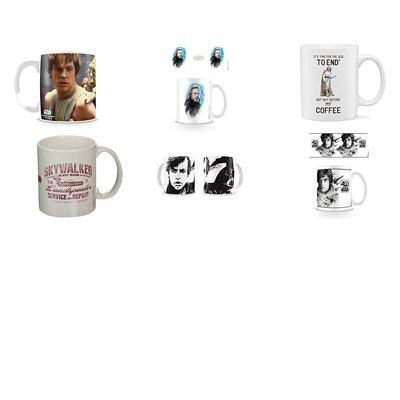 The heat change Luke Skywalker Mug has "Luke Skywalker" in thick black writing. Add hot water, and Lukes face will appear within the writing in blue.
The Star Wars Last Jedi Luke Skywalker Mug is white. The mug features a high-quality print of the older Luke Skywalker and The Last Jedi logo.
The next mug has a high-quality photo of Luke with Yoda on his back. Taken from a scene of Lukes training in The Empire Strikes Back.
Who could forget Lukes land speeder? The next mug has a red graphic of the land speeder with "Skywalker And Son Land Speeder Service & Repair". Also "Beggar's Canyon, Tatooine" includes the original Star Wars logo.
The next Luke mug is white and features serious black, and white images of Luke Skywalkers face. Darth Vaders Face's on the other side of the mug.
The official 40th anniversary Luke Skywalker Mug has Luke's face. AT-AT walkers and flying X-Wing fighters. Mug includes the official Star Wars 40th Anniversary logo. Finally "It's time for the force to end, but not before my coffee" mug. Features the artwork of Luke in the Last Jedi with his lightsaber drawn.