Celebrate your favourite superhero every time you drink with Marvel Mugs.
Marvel has been making comics cartoons and films for nearly 80 years. Overall there are around 8000 Marvel characters the famous have found their way on to mugs of many different designs. Mugs range from standard printed to 3D shaped.
Each mug is based on a Marvel character and tells a story.
Click Here For Marvel Mugs Prices & Availability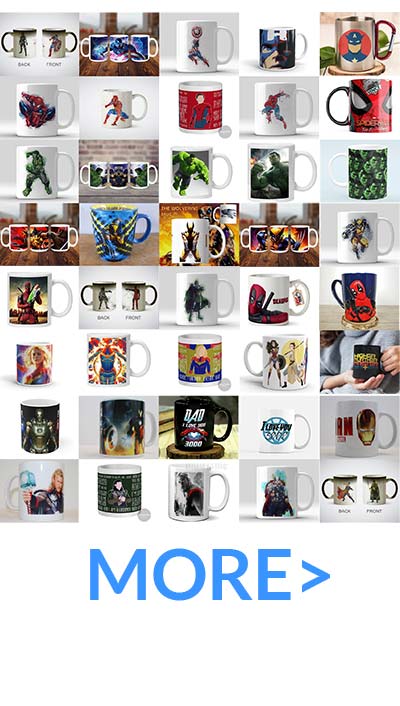 Captain America
Captain America appeared in 1941 during the world war where a young (and small) Steve Rogers wants to join the army to fight the Nazi's. Steve size results in his rejection from the military. All is not lost. Steve eventually gets accepted into a trial program where he takes a cutting edge serum that transforms him into Captain America. Steve's now a supersoldier with a special shield that doubles as a weapon, handy for fighting his arch-enemy Red Skull.
Spider-Man
A young Peter Parker is bitten by a radioactive spider. Overnight he becomes a human spider able to crawl walls and ceilings. Peter eventually creates wrist-mounted devices that allow him to fire his webbing. After the death of his uncle, Peter makes a red and blue spiderman suit and goes off in pursuit of his uncles killer. Spiderman makes many enemies including the Green goblin, Vulture and Dr Octopus.
The Hulk
Scientist David Banner wants to create supersoldiers with modified D.N.A. but has to resort to running the experiments on himself which he eventually stops. His son Bruce Banner is born, and unbeknown to him has inherited his fathers enhanced D.N.A. Years later, Bruce is exposed to a hefty dose of Gamma radiation now any time Bruce experiences extreme stress he transforms into a huge, raging green monster, which causes all sorts of strife and trouble.
Wolverine
Wolverine's best known for the retractable bone claws, other superhuman powers include animal senses, healing powers and incredible physical capabilities. Wolverine started life on a farm after discovering his mutation he flees to a mining colony in Yukon and changes his name to 'Logan'. After accidentally killing his childhood companion Rose, he leaves the colony to live in the wilderness with wolves until captured and placed in a circus. This is only the start of the complex Wolverine story.
Deadpool
Wade Wilson, a mercenary and ex-special forces operative, leaves his fiancee Vanessa after discovering he has terminal cancer. Wilson is offered a cure but is actually injected with a drug to activate latent mutant genes. He is then tortured to trigger the mutation which fails. A weekend in a hyperbaric chamber awakens a superhuman ability which rids Wilson of his cancer but disfigures him. Wilsons abandoned by the scientists in the burning laboratory he survives. The vigilante Deadpool is born.
Captain Marvel
Starforce member Vers has severe amnesia and reoccurring dreams of an older woman. Vers is captured by Talos a Skrull commander during a mission to rescue a colleague. The shapeshifting alien's probe Vers memory which takes them straight to planet Earth. Vers manages to escape and get to Los Angeles and obtain a crystal with her extracted memories. The crystal contains some very interesting information. Vers is actually Carol Danvers who gained special powers from a jet engine explosion but lost her memory.
Ironman
Defence contractor Tony Stark is in Afghanistan to demonstrate a new missile. An ambush occurs, and Tony is severely wounded by one of his own weapons. The terrorist group responsible kidnap Tony and imprison him in a cave. Luckily for Tony, he's held captive with a  doctor named Yinsen. Yinsen implants an electromagnet in Tony's chest and together secretly build an arc reactor and suit of powered armour so they can escape. Once the suits fully charged Tony escapes and became Ironman.
Thor
Thor and his enchanted hammer Mjolnir are exiled to earth by his father, Odin king of Asgard. Thor lands in New Mexico and is found by Dr Jane Foster an astrophysicist. Thor's hammer is found by locals but soon taken away by a S.H.E.I.L.D. Agent Phil Coulson. Thor makes his way to Mjolnir's location, but on renunciation, with his hammer, Thor discovers he can no longer lift it and ends up captured. He is later freed and accepts his expulsion and new life on earth.
Daredevil
Matt Murdock was blinded by a toxic spillage as a child giving him special abilities that enable him to see via sonic vibrations. After Matts father is killed by a local mobster Matt vows to rid Hells Kitchen (his local area) of all crime. Matt becomes the vigilante 'Daredevil'. Daredevil is framed for the murder of businessman Nikolas Natchios (while trying to save him from assassination by the Irish hitman 'Bullseye'). Nikolas's daughter Elektra vows revenge and goes after Daredevil.
Fantastic Four/Silver Surfer
Reed Richards (mister fantastic) is asked by the government to track a strange silver object that's entered earth's atmosphere that's radiating cosmic energy and creating deep craters across the planet. The human torch chases the object and discovers it's a 'Silver Surfer'. The surfer drags the human torch into space and drops him back to earth. He survives, and the team discover Johnnys (human torch) molecular structure's in flux, allowing him to switch powers with other members of The Fantastic Four. The team go to London to confront the Silver Surfer.