A mug tree is a verticle pole (usually around 30-40cm's high) with angled pegs to hang mugs from the pegs are angled to stop the mugs falling off all of this is attached to a base, the whole simple but smart storage unit can then sit proudly on the kitchen worktop safely and neatly storing the owners mugs, mug trees are usually made out of wood or metal.
Click Here For All Mug Trees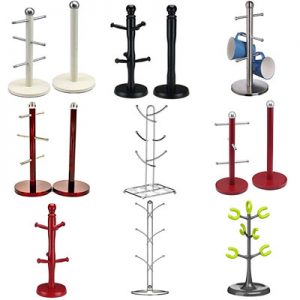 The Red Candy Typhoon Novo mug tree features a weighted non-slip base stainless steel and red finish and a six mug capacity also available in the typhoon range are 400ml mugs and a wide range of other matching typhoon kitchenware
The Morphy Richards mug trees sold by IWOOT are available in plum and red hold six mugs are 37cm's high and constructed from steel with a non-slip weighted base at 12.99 they are currently the cheapest on the net.
Next in line are the Bex Simon designer mug trees these are cast iron hand made with aluminium pegs the heavy-duty non-slip base is art-deco inspired (an international art design style that began in the 1920s and was highly popular in architecture, cars, furniture, homeware and other consumer products however popularity diminished in the '40s) the pegs are designed in an art Nouveau style (art nouveau was favourite between 1890 and 1910 and was used in architecture, painting, sculpture and jewellery) 40cm's high and available in cream or matt black, the tree would make the ideal gift as it comes in its presentation box and due to the high quality will last a lifetime.
Debenhams have four mug trees in their range first up is a simple natural oak 6 mug design by Jasper Conran which is 34cm's high and has a modest 15cm base, next we have the smaller T&G's cream hevea wood mug tree again a simple design with a six mug capacity that is 31cm's high with a 13cm base.
For those that want a metal tree at a value price, the Ashley Thomas cream coloured teapot mug tree is a good choice that features hooks instead of pegs and a unique design crafted teapot on top, 37cms high with a 15cm base.
Matt stainless steel is a popular choice for today's modern kitchen and Debenhams complement this with their brushed stainless steel textured mug tree with six horizontal pegs a 33cm stem and 15cm non-slip base.
Click Here For All Mug Trees