Your best friend inspires and looks after you no matter what, motivating and pushing you in the right direction. As such on occasions they deserve awesome gifts. Are you stuck on what to get your best friend for his/her birthday, Christmas or anniversary present? Get unstuck with this selection of Mugs For Best Friends.
A mug is special something your best friend can use every day and will remind them of you. Mugs For Best Friends are available in a wide range of designs and made from stoneware or porcelain ceramic.
Most are customisable so you can enter your name and your friend's name.
Click Here For Mugs For Best Friends Prices & Availability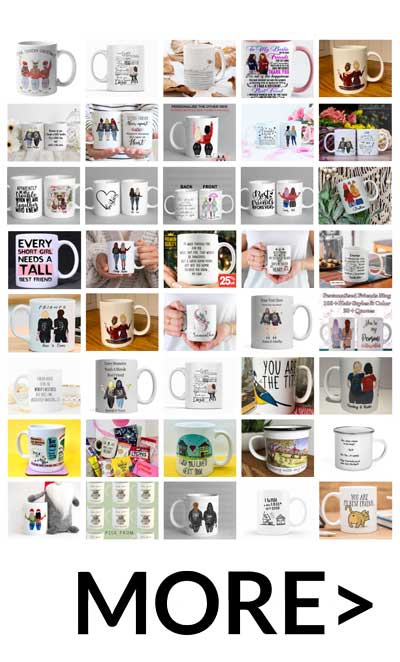 Mugs For Best Friends Designs & Slogans Include
Bestie Customisable Mug – Customise with yours and your friends' name.
Sisters Forever – "Never apart maybe in the distance but never at heart."
Best Friends – "Because of you, I laugh a little harder to cry a little less and smile a lot more."
A Good Friend – "Knows all your stories a best friend helped you write them."
Friends Are Like Stars – "You can't always see them, but they're always there."
Because Of You – "Laugh a little harder, cry a little less and smile a lot more."
Apparently, We Are Trouble – "When we are together, who knew!"
Best Friends Forever – Customise with your names.
True Friends – "Are like diamonds bright, beautiful, valuable and always in style."
The Little Things "Are not little at all."
My Best Friend – "May not be my sister by blood, but she's my sister by heart."
I'd Walk Through Fire For You – "Well, not fire that would be dangerous, but a super humid room, but not too humid because you know my hair."
A Friend Like You – "Is harder to find than toilet paper during a pandemic."
Motivational Mug – Filled with motivational quotes like "you are loved, brave, strong and creative."
I Wish – "You lived next door."
To My Bestie – "We've been friends for so long I can't remember which one of us is the bad influence…"
Every Short Girl – "Needs a tall best friend."
Best Friends – "You're one of those people who make my life better just by being in it."
Thank You – "For being my unpaid therapist #bestfriend."
I don't Know What's Tighter – "Our jeans or our friendship, we've been friends for so long."
If There Ever – "Comes a day when we can't be, together, keep me in your heart I'll stay there forever."
Friends Are The People – "Who makes you smile brighter laugh louder and live better."
You Are The Sister – "I got to choose."
Best Friends – "Make the good times better and the hard times easier."
Tea And A Friend – "The perfect blend."
Every Blonde – "Needs a brunette bestie."
True Friends – "Are always together in spirit."
We'll Be Friends – "Until we're old and senile, then we will be new best friends."
Our Holiday May Be Cancelled – "But we'll make up for it next year."
The Mug – "Is a hug from you to me."
Best Friends – "One who listens doesn't judge and somehow makes everything right."
Best Friends – "I may not always be there with you, but I'll always be around for you."
The Best Things In Life – "The people you love the places you've been and the memories you've made."
As Friends "We've been through thick and thin, lived and laughed, cried and sighed.
I Hope Were Best Freinds Until We Die – "And then I hope we stay ghost friends and walk through walls and scare people."
Every Brunette – "Needs a blonde best friend."
She Is A Mess – "But she is a masterpiece."
You Are – "The best person I know."
I Think We Dream – "So we don't have to be apart for so long, If we're in each other's dreams we can be together all the time."
Bestie Noun – "A true best friend, Always has a listening ear, Is incredibly kind-hearted, Loves a prosecco and a sing-song, takes the funniest selfies."
Thank You For Being My Brother – "If I had a different brother, I'd go find you."
True Friends – "Are never apart, maybe at a distance but never at heart."
If Everyone Has – "A true friend like you, the world would be a better place."