A mug for your Boyfriend is a great and inexpensive gift that he'll appreciate for many years to come. Boyfriend mugs are ideal for giving on Christmas, Birthdays, Anniversary's or Valentine's day.
Here is a range of ceramic mugs in various designs with many amusing slogans and messages available. Some can be personalised so you can add your Boyfriends name.
Click Here For Mugs For Boyfriend Prices & Availability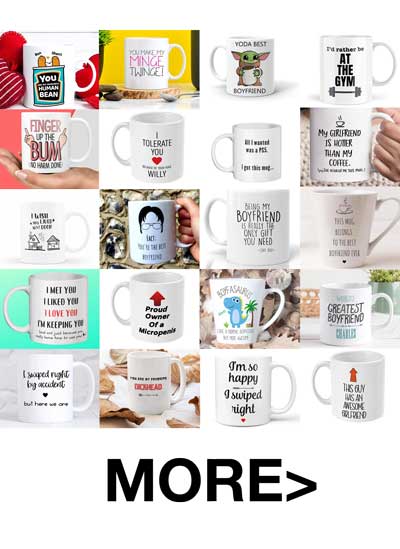 Mugs For Boyfriend Include
I Tolerate You – "Because of your huge willy" includes a red love heart.
You Make My – "Minge twinge".
You Are My Favorite – "Dickhead" complete with an arrow through the heart.
Yoda Best – "Boyfriend" with a baby Yoda cartoon image.
You Are My Favorite Human Bean – Enter yours and your Boyfriends name.
Finger Up The Bum – "No harm done".
I'd Rather Be – At the gym includes barbel image.
My Girlfriend – "Is hotter than this coffee" (she bought me this mug).
All I Wanted Was A PS5 – I got this mug…
I Wish – "You lived next door".
Fact – "You're the best boyfriend".
Being My Boyfriend – "Is really the only gift you need".
I Met You – "I liked you, I loved you, I'm keeping you".
This Mug Belongs To – "The best boyfriend ever".
Proud Owner – "Of a micropenis" includes an arrow pointing upwards towards drinker.
Boyfasaurus – "Like a normal boyfriend but more awesome".
World's Greatest Boyfriend – Add your Boyfriends name.
I Swiped Right By Accident – "But here we are".
I'm So Happy – "I swiped right".
The Eyes – "They never lie".
Overall I Love You More – "Than I want to strangle you".
Thank You – "For swiping right".
This Guy – "Has an awesome Girlfriend."
Thanks – "For all the orgasms".
After 10 Years – "You still put up with me".
I Love You For Your Personality – "But that dick is a huge bonus".
Spooning – Since (ad year) complete with an image of two spoons.
To My Boyfriend – "I loved you then, I love you. Still, I love your butt I always will."
Handsome – "Bald and shiny".
I Think – "Me being your Girlfriend is enough of a birthday gift".
You're' An Idiot – "But you're my idiot".
I Love That – You're as weird as me.