Mugs For your Husband perfect for Birthdays, Anniversaries, Christmas and those occasions when you want to treat your other half, letting them know how awesome they are.
Husband mugs are made from various ceramics and are available in a range of colours, designs and sizes.
Click Here For Husband Mugs Prices & Availability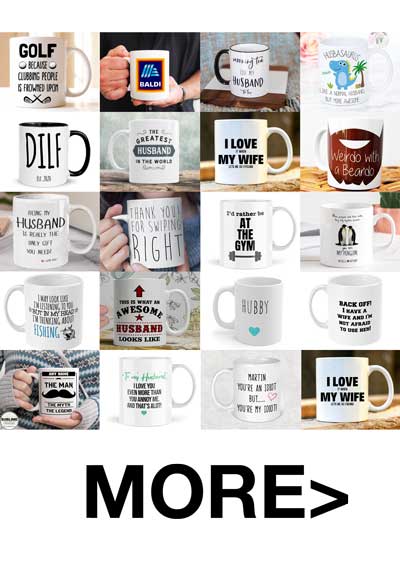 Husband Mug Designs Include
Baldi – A well-known supermarket logo with an added 'B' for those with bald husbands.
Husbasuarus – Like a normal husband but more awesome.
Morning Tea – "For my husband (add name)".
You Are – "My favourite human bean" with bean cartoon.
Dilf – Stands for 'Dad I'd like to ….' complete with customised year.
The Greatest – "Husband in the world".
Custom Name – Followed by "The man, the myth, the legend."
I Am – "The better half."
Manly Man XL – An extra-large mug for the manly man.
Weirdo With A Beardo – Does your Husband have a beard? Then this is the mug for him.
I Love It – "When my wife lets me go cycling".
Being My Husband – "Is really the only gift you need".
Good Morning Handsome – Complete with hearts on strings.
Thank You! – "For swiping right".
I'd Rather Be – "At the gym" complete with Barbell.
Golf – "Because clubbing people is frowned upon".
Back Off! – "I have a wife, and I'm not afraid to use her".
Custom Name – "You're an idiot, but you're my idiot".
I'm So Happy – "I swiped right".
When Penguins – "Find their mate, they stay together forever. You are my penguin".
I Run – "Because punching people is frowned upon".
This Is What – "An awesome husband looks like".
You May Be A Knob – "But you're my knob".
Custom Name – "Grumpy old git approach with caution".
To My Husband – "I love you more than you annoy me and that's a lot".
I Don't Argue – "I explain why I am right."
Custom Name – "World's greatest ex-husband" Good for the recently divorced.
I Love Fishing – "I love my wife; she reminds me of an old trout".
If A Man Says He Will Fix It – "He will there's no need to remind him every six months".
Being My Husband – "Is really the only Xmas gift you need" written with 'Friends' style writing.
These are just a few of Mugs for Husbands to see the whole range. Please follow the link below.