Mugs for Men must be amusing and stand up to the rigours of everyday use. Here we have lots of Mugs for him with many designs available. Pick the Mug that suits him best. We guarantee he'll love and appreciate it.
Mugs for Men are ideal for Birthdays, Christmas and Anniversary. Some are customisable so you can put his name on it.
Click Here For Mugs For Men Prices & Availability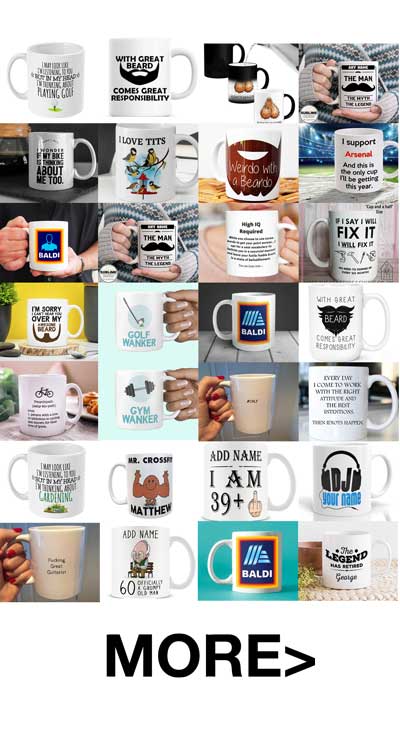 Mugs For Men Include
Love Tea Bagging Magic Mug – A black mug that reveals a 'Tea Bagging' image when activated with hot water.
Every Day I Come To Work – "With the right attitude then idiots happen".
I May Look Like I'm Listening To You – "But in my head, I'm playing golf".
Any Name – "The man the myth the legend".
I Am 39+ – A middle finger.
Sometimes I Wonder – "If my bikes thinking about me too"]
I Love Tits – Complete with an image of Bluetitis perched in trees and eating off tables.
Weirdo With A Beardo – Complete with beard motif.
If 'Any Name' – "Can't fix it then no one can".
I Support Arsenal – "And this is the only cup I'll be getting this year".
With This Beard – "Comes great responsibility".
You're One Year Closer – "To dipping your balls in the water when you take a s***".
I Don't Snore – "I dream I'm a train".
Gingers Are For Life – "Not just for Christmas".
If I Say I Will Fix It – "I will fix it no need to remind me every six months".
I'm Sorry – I can't hear you over my awesome beard.
You Can't Shock Me – "I'm an Electrician".
Baldi – "Done in a mock supermarket logo".
Pscyclopath – "Person with a love or addiction for cycling also known for their love of lycra".
The Legend – "Has retired" (enter any name)
Custom Name – "You are one in a Minion" Complete with 'Minions.'
The Boss – Enter the name of your choosing.
Mr Crossfit – Mr Men inspired mug with a custom name of your choice.
Running Man – Inspired by the book and film.
DJ – Your name complete with headphones.
May The Seagull – "Of good fortune s*** all over you and your family".
Yeah, I Do Marathons – "On Netflix".
To Golf Or Not To Golf – "What a stupid question".
I'm Not Always Grumpy – "Sometimes I'm playing Golf".
Me? Sarcastic? – "Never".
Not Everyone "Looks this good at forty".
Golf – "Because clubbing people is frowned upon".
This Man Shoots People – "In the face with a camera".
Enter Custom Year – "The year of the legend".
You're The Kind Of Man – "I'd make a sandwich for".
You Call Them Swear Words – "I call them sentence enhancers".
Keep Calm – "I'm a man".
Handsome – "Bald and shiny".
Add Name – "You have reached level" Add age, complete with a console controller.
Lining My Stomach – "Before the shots".
Add Name – "Officially a grumpy old man" choose between 50, 60 and 70.
I'm Definitely Not Asleep – "I'm just resting my eyes".
Not A Morning Person – Complete with an arrow pointing upwards.
These are just a few of the Mugs for men available. There's more please follow the link below.