Mugs For Work help you get through the dreariest of working days providing you with a vessel to drink that much-needed coffee from. The Mugs provide some light humour also. Buy one for yourself or as a gift for a colleague, great for secret Santa or leaving presents.
Mugs For Work are ceramic, microwave and dishwasher safe and available in a range of funny designs.
Click Here For Mugs For Work Prices & Availability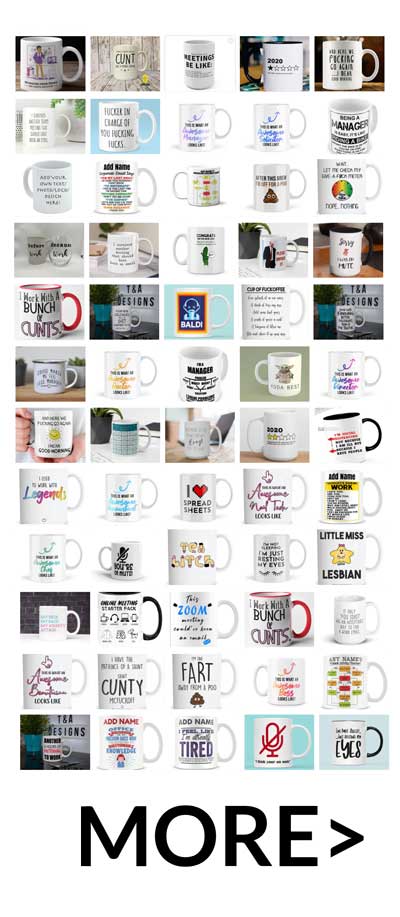 Mugs For Work Designs Include
Meeting – "I survived another team meeting that should have been an email".
This Is What – "An awesome 'boss' 'manager' 'solicitor' 'engineer' 'doctor' 'chef' or 'dental nurse' (pick one accordingly) looks like.
Being A Manager – "Is easy, it's like riding a bike except the bike is on fire, you're on fire, everything's on fire, and you're in hell."
Working From Home – "No pants edition" A lockdown mug for those working from home in their pants.
2020 Review Mug – Available in one or two stars "Not very good wouldn't recommend".
Meetings Are Like – "We don't know much what we do know we cannot share, expect everything to change given these facts".
Problem Solving Chart – A detailed problem-solving chart with room for any person name".
Wait Let Me Check – "I give a f**k meter, nope nothing".
I Work With A Bunch Of – (too offensive to publish here).
And Here We – "F******g go again, I mean good morning".
Congrats On The New Job – I hope you're as busy as a cucumber in a woman prison".
After This Brew – "I'm off for a poo".
Your New Colleagues – "Will be shit compared to us".
Baldi – A baldi picture in an Aldi type logo.
Coffee Makes Me Feel – "Less Murdery"
Good Luck – "Finding better colleagues than us, you traitor."
I'm Social Distancing – "Not because I'm I'll because I hate people."
Employment At Will – "Mean you're always free to leave"
This Zoom Meeting – Should've been an email.
If Only – "You idiot was an acceptable way to end a work email."
I Feel Like – "I'm already tired tomorrow."
I'm Not Sleeping – "I'm just resting my eyes."
These are just a few of the Mugds For Work to see more designs, please follow the link below.