Mugs with Lids are ideal for keeping your tea or coffee hotter for longer. They're also useful for preventing spillages when transporting from the kettle to the coffee table.
We are talking about Mugs With Lids that can be used in the home, not Travel Mugs although they'll perform just as well it's just that nothing beats the drinking from the ceramic taste.
Here are some ceramic mugs with lids.
Click Here For Mugs With Lids Prices & Availability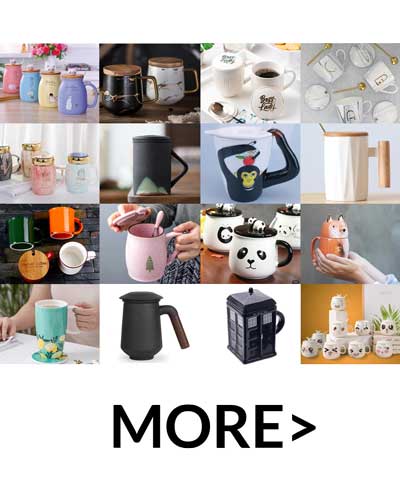 Mugs With Lids Include
Cat
Tapered mugs with a 500ml capacity and wooden lid with 3d Cat head on top of the lid. Spoons also provided which will also fit on the mug when the lid's in place. The mugs are available in yellow, blue or pink with a matt exterior and glossy interior. Each colour has a different image of a cat playing with a ball of wool and written message.
Marble
Gold marble effect ceramic mugs with lids in white or black, a wooden lid and gold handle. Each mug is unique, and not any two are the same.
Alphabet Marble
White porcelain mugs and lids with grey marble effect complete with a metal spoon and a gold embossed letter of your choice. Match the letter to your name.
Boss Lady
Lids that'll fit most mugs. A white lid with gold embossed 'Boss Lady' writing and ring. Put this lid on your bosses mug she'll appreciate her drink keeping hot while in a meeting and there's no risk of a low-level employee taking a sip either.
Don't Touch This
Marble effect mugs with a gold cactus logo and the message 'Don't Touch This'. Gold screw-on lid included available in colours pink, cream, black and sapphire blue.
Mountain
A textured black mug with matching screw on textured lid. A mountain shape adorns the base of the mug, and the handle is a unique mountain shape too.
Monkey
A 3D ceramic mug with a monkey holding an apple on his head with one arm. The other arm is the handle which looks like a real monkey limb. Includes lid with thumb lift and spoon which will sit in the mug when the lid's on.
Wood Handle
A ceramic line design mug with nordic wooden handle and lid. Available in colours black, white, brown and grey. 400ml capacity.
Enamel
The outdoor camping experience in your kitchen, or actually use these mugs for camping. Classic enamel style mugs in orange, red, white or green. Complete with wooden lid.
Nordic Style
A pink Nordic style mug with large tapered body, pine needle texture and gold tree motif with gold rim. Available in pink, grey, dark green and creamy white with matching colour lid and spoon.
Panda
A dumpy white ceramic mug with black panda face, handle and lid. A 3D Panda lying on his belly is included on top of the lid.
Fox
An orange ceramic mug with large 3D Fox head that doubles up as the lid. The foxes face's three dimensional, including ears and nose. Two sizes available 325ml or 440ml.
Tall Latte Style
A range of tall latte style mugs with 500ml capacities. Each mug features a matching silicone lid which doubles up as a coaster—various colours with special lemons design.
Infuser
A tapered black textured mug with large overlapping lid in the same colour and built-in infuser, which lifts out when brews complete. Large tapered heat-insulated handle.
Tardis
Rectangular mug designed to look like the Tardis from Dr Who. The lid is the roof of the police phone box mug. Supplied in a gift box.
Anime
Anime inspired mugs with lids in a range of various facial expressions which include silly, love, wink, happy, smile, sad and teary.
There are More Mugs With Lids
This is just a few of many Mugs with lids on offer. Please follow the link below to see more Mugs.