The PlayStation was first launched way back in 1994, the first CD-ROM games console which had sales of over 100 million consoles worldwide. The PlayStation 2 IS the best selling games console EVER with 155 million consoles sold. The PlayStation is a household favourite, and the logo along with the Triangle, Square, Circle & X controller symbols are now iconic and legendary.
Click Here For PlayStation Mugs Prices & Availability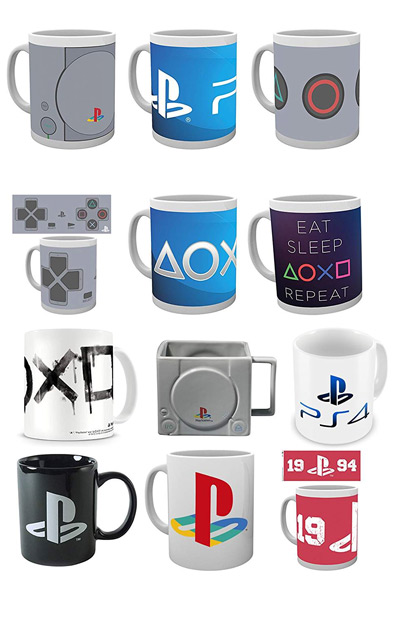 To celebrate the awesomeness of the PlayStation, we have a selection of great PlayStation mugs for you, a must for any gamer!
PlayStation Console Mug
A traditional white standard capacity mug with artwork of the original PlayStation stretching from side to side.
3D PlayStation Mug
A square mug formed in the image of an original PlayStation with sd buttons and CD-Rom, a fully licensed product with a 325ml capacity.
PlayStation Buttons Mug
A white mug with a grey background and the four famous PlayStation buttons, a full colour officially licensed mug
PlayStation Colour Logo Mug
The full-colour PlayStation logo on a white ceramic mug.
Full Control PlayStation Mug
Take control of your Tea with this licensed PlayStation controller mug features all the buttons of the original controller, up, down, left, right, select, start, triangle, circle, square and X, high-quality ceramic.
PlayStation Silver Buttons Mug
This mug has a blue background with all the PlayStation buttons in Silver.
PlayStation Eat, Sleep, Repeat Mug
Ceramic mug with the slogan Eat, Sleep (all the PlayStation buttons in their corresponding colours) Repeat.
PS4 Logo Mug
This mug features the PlayStation and PS4 logo.
Playstation Icons Mug
All the PlayStation icons in a drippy graffiti style font on a white ceramic mug.
PlayStation 1994 Vintage Mug
The PS logo and 1994 on a red background, this nostalgic mug will take you back to your early PlayStation days.
PlayStation Logo & Icons Mug
A black ceramic mug with silver PlayStation logo and icons.