Princess Leia Organa. The sister of Luke Skywalker and daughter of Anakin Skywalker and Padme Amidala. Princess Leia was the princess of Alderaan (before the planet's blown up by the Death Star) and member of the Rebel Alliance. She plays a pivotal role in the Star Wars films. Helping in bringing about the destruction of the Death Star (both times).
Click Here For Princess Leia Mugs Prices & Availability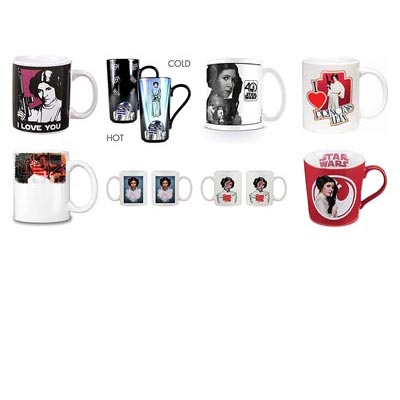 Commanding the rebel base in The Empire Strikes back and rescuing Han Solo in The Return Of The Jedi. Princess Leia is a true 1980's female icon and was an inspiration for other female heroines. Sadly Carrie Fisher who played the princess is no longer with us. You can pay tribute to her with a Princess Leia mug.
The 40th Star Wars anniversary mug features Princess Leia brandishing a blaster with her famous cinnamon bun hairstyle. At the bottom of the mug is the image of the princess recording her message with R2-D2.
The "I Love Princess Leia Mug" also has the princess in her white gown and great hair. One hand's on her hip while holding her blaster with her other hand.
There are various other mugs of Leia from A New Hope like the "Rebel" and "Don't call me princess". Other mugs are also available with Leia from an Empire Strikes Back and Return Of The Jedi. The last mug has a star drop background with the Star Wars font and the message "I love you more than Leia loves Han."