A range of mugs based on the popular US animated science fiction sitcom, a must for any Rick & Morty fans.
Keep Calm And Wubba Lubba Dub Dub Mug
Printed with Ricks favourite catchphrase, ceramic mug with turquoise background and black writing.
Click Here For Rick And Morty Mugs Prices & Availability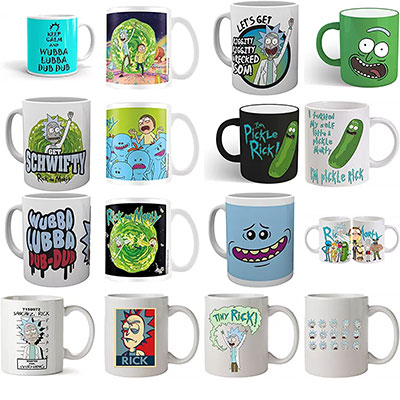 Rick & Morty Portal mug
With a high-quality print of Rick & Morty in front of the green portal.
Rick Mug
Features Rick saying "I'm sorry, but your opinion means very little to me."
Rick Wrecked Mug
Features Rick punching the air and saying "Let's get digging, riggity wrecked son!"
Pickle Rick Face Mug
A green mug inspired by the Pickle Rick Meme
I'm Pickle Rick Mug
Another mug inspired by the internet meme with rick's face on a pickle, a black mug with white inside. Also available in white with the wording "I turned myself into a pickle Morty."
Get Schwifty Mug
Rick is punching the air with a green portal backdrop and the phrase "Get Schwifty" also available in a heat changing version.
Rick & Morty Friends Mug
With the high-quality print of Rick & Morty and all their friends.
Rick & Morty Identity Parade Mug
With Rick in an identity parade line up with "No 7150972, Sanchez Rick, Wanted For Everything."
Many Faces Of Rick Mug
Printed with the many faces of Rick, 15 in total.
All Rick And Morty mugs are high-quality ceramic and are microwave and dishwasher safe which means the high-quality prints won't fade over time.