Royal Doulton Mugs are available in various ranges for all events, whether you want a quiet cup of tea in the morning or want to serve drinks to your friends and family at dinner parties.
All mugs are handmade to the highest quality and will serve you well for many years to come. Gift wrapping with a custom message is offered when you buy. Royal Doulton mugs make an excellent gift for birthdays, Christmas, anniversary and special occasions.
Click Here For Royal Doulton Mugs Prices & Availability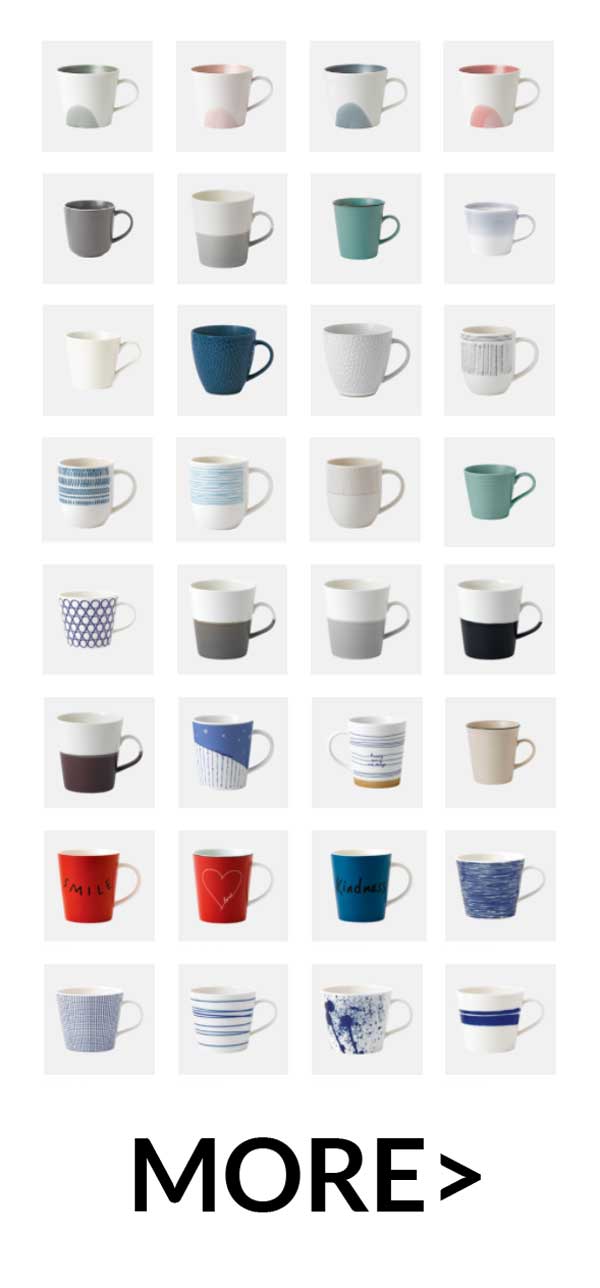 Royal Doulton Mug Ranges
Royal Doulton Mugs are available singularly or in sets of four and six, in the following ranges.
1815
1815 Mugs are available in blue, white or the Light Colours Set. The glazes are discrete with a hand-dipped effect. Made from strong chip-resistant Porcelain, the mugs are stackable with a 390ml capacity.
1815 Light Colours mugs are a set of 4 mugs with calming pastel colours which includes blue, yellow, green and mauve.
1815 Coffee Studio
The 1815 Coffee Studio mugs are inspired by the relaxed coffee shop feel. Mugs are partially dipped in grey are made from Porcelain and are stackable for easy storage. Available in a range of sizes which include…
Grande – 500ml
Travel – 350ml
Small – 270ml
Latte Cup – 425ml
Cappuccino – 256ml
Blue Love
A collection of 4 Blue Love mugs all are decorated with blue patterns and motifs with the word 'love' embossed into each mug. The mugs have a 500ml capacity and supplied in a drawer-style presentation box.
Bread Street State Mug
A modern mug for everyday living from Gordon Ramsay's Bread Street Kitchen Collection. Slate grey colour with white rim or white with a neutral slate rim. The mugs constructed from stoneware and have a 350ml capacity. Safe for use in the dishwasher, microwave and oven up to 100C.
Bunnykins
A classic baby/young child's mug is available in a variety of Bunnykins illustrations. They are made from fine bone china with a 250ml capacity.
Charcoal Grey Lines
An ivory porcelain mug decorated with a grey lines motif and border. 415ml capacity, microwave and dishwasher safe.
Cobalt Blue Chevron
A textured ivory mug with a chevrons and lines design in blue. Made from Porcelain this mug has a 415ml capacity.
ED Mugs
A range of mugs made in collaboration with Ellen Degeneres. All ED mugs have a 488ml capacity and are made from high-quality porcelain that's safe for the microwave, dishwasher and oven. Designs include…
Be Kind
Cat
Cheers
Choose Kindness
Create Kindness
Dog
Happy Today
Inspire
Just Shine
Kindness
Smile
Holiday
A set of four mugs for the Christmas holiday season, for your own kitchen or as a gift. Each porcelain mug features a festive design and message in red. 488ml capacity and supplied in a presentation gift box.
Joy
Joy mugs include messages such as 'Joy' 'Smile' 'love' and kindness. A collage bird design mug's also available in the range. Joy mugs are constructed from Porcelain and have a 488ml capacity.
London Calling
London Calling Mugs feature Charlene Mullens embroidery of London landmarks such as The Eye, Tower Of London, Gherkin and more. A set of four 400ml Porcelain mugs supplied in a presentation gift box.
Love Signature
Love Signature mugs adorn vibrant reds, blues and greys, sending the message of love. Various designs are available in single mugs or sets of four. Mugs are made from Porcelain with a 475ml capacity.
Maze
Part of the Royal Doulton Gordon Ramsay range mugs are subtly glazed and embossed with circles that also double up as a grip. These contemporary mugs have a 400ml capacity and are available in white, teal and white grey.
Maze Grill
Gordon Ramsay's Maze Grill Restaurants feature metal hammer beakers as standard. Maze Grill mugs are made to look like hammered metal, a unique look you won't find on any other mug. 295ml capacity, available in colours blue or white, constructed from stoneware.
Pacific Blue
A set of six different mugs with handpainted pacific blue designs. Each design has taken inspiration from the sea using dots, lines, circles, splashes and textures. Mugs are stackable and available in sizes 280ml or 400ml.
Pastels
The set of Pastel Mugs feature four different block print designs, chevron in orange, diamonds in pink, circles in mauve and leaves in green. 365ml capacity.
Polar Blue
A light polar blue design of wavy lines and dots on an ivory colour porcelain mug. The mugs are safe to use in the dishwasher and microwave—415ml capacity.
Union Street
Union Street mugs are inspired by the urban Italian interior of Gordon Ramsay's Cafe/Restaurant of the same name. Available in colours cream or teal. Made from stoneware the mugs have a 350ml capacity.
Signature 1815
Signature 1815 mugs are made from Porcelain and have a 400ml capacity. The handcrafting process ensures every single piece is unique, and not one is quite the same. Microwave and dishwasher safe Available in colours pink, blue, coral and green.
About Royal Doulton
Royal Doulton is a truly British company with a colourful history spanning over 200 years. The company was founded in 1815 by John Doulton who made storage jars and ceramic sewer pipes at his factory in Lambeth, London. The company eventually moved into tableware. Royal Doulton collaborated with artists and designers, experimented with new materials and innovated new glazing techniques. This combination led to the much loved high-quality tableware we enjoy today.