The Sports Direct Mug never has a single mug ended up in the homes and offices of so many people a cult classic and arguably Britains most common mug.
Lots of questions are asked about these legendary mugs and, today we're going to answer these questions.
Click Here For Sports Direct Mug Prices & Availability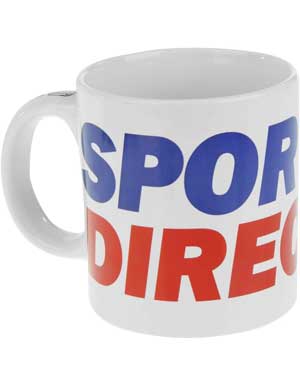 What Is A Sports Direct Mug?
It's a big ceramic mug lots of people who have purchased from Sports Direct in the past have one.
Why Do So Many People Have A Sports Direct Mug?
They are upsold to customers when they make a purchase and them ar,e extremely cheap at only a £1, who wouldn't want a giant mug for £1, and apparently, at times they are given away for free. When you spend a certain amount or download their app.
What Colour Is A Sports Direct Mug?
A Sports Direct mug is White, red & blue
What Does A Sports Direct Mug Look Like?
It's a large white ceramic mug with the Sports Direct logo emblazoned across the front ('Sports' in blue 'Direct' in red?)
Is The Sports Direct Mug Britains Most Loved Mug?
No, although a large proportion of the population has one and the owners use them a lot (due to the convenient size) probably very few actually love them, some even claim to hate them (although we bet they'll miss their mug when it breaks)  When it comes to aesthetics and feel, there are a lot more desirable and popular mugs on the UK market.
How Big Is A Sports Direct Mug?
A Sports Direct Mug has a 590ml capacity or 20 fluid ounces
What Are The Dimensions Of A Sports Direct Mug?
As yet no one has measured a Sports Direct mug, so no measurements are available
What Drinks are Best For A Sports Direct Mug?
Double tea, double coffee, extra-large hot chocolate and soups
About Sports Direct
Sports Direct was founded in 1982 and is the most significant sporting goods, the retailer in the country (and by the looks of it quite a large mug retailer also). The company sells sports, fitness, fashion and lifestyle products in their UK stores and online.