A St. Patricks Day Mug is the accessory to celebrate that special Irish celebration, the one we Brits celebrate more than our own St Georges's Day.
St Patricks Day is held on the 17th March, the date the patron saint of Ireland died in the year 461.
As with all things related to this cultural event, St Patricks Day Mugs feature the colour green, four-leaf clovers and leprechauns.
The Colour Green is used because Ireland is nicknamed 'The Emerald Isle', and Irish Americans (St Patricks Day is huge in the US) would wear green to remind themselves they were Irish nationalists.
St Patrick utilised four-leaf clovers to explain the holy trinity. They also represent faith, love, hope and luck.
Leprechauns are relatively new additions to the celebration of St Patricks Day, having been enshrined in Irish culture for centuries. If you're lucky enough your ever see one, it's a sure sign of good luck.
While St Patricks Day is held only one day of the year, a St Patricks Day Mug will give you 'The Luck Of The Irish' all year round.
---
Happy St Patricks Day Mugs
Six St Patricks Day designs to choose from. The first includes Irish beer glasses, a pot of gold at the end of the rainbow, or designs featuring Leprechaunesses.
All bear the message 'Happy St Patricks Day
Printed on white ceramic with black handle and interior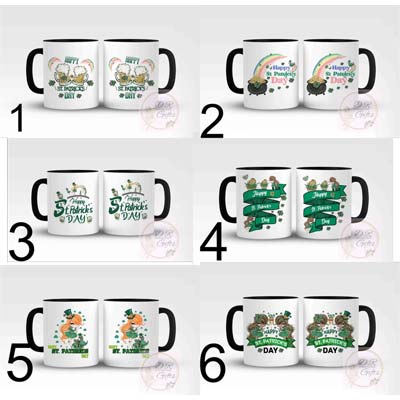 Shamrock On Mug
The Shamrock features everything St Patricks Day A rainbow, A Leprechauns Hat, Shamrocks, and the all-important pints of Guinness.
Available in white, black or green.
Holds 325ml
Who's Your Paddy Mug
Printed with the message 'Who's Your Paddy' accompanied by a prominent Shamrock on a vibrant green Shamrock background, a design that really gets into the spirit of St Patricks Day.
Holds 300+ ml
Gloss Finish
Dishwasher Safe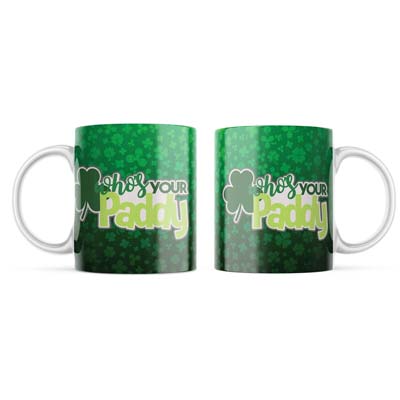 Lucky Irish Mug
The St Patricks Day Lucky Irish Mug is covered in Lucky leprechauns hats, four-leaf clovers, shamrocks and horseshoes. All items are in various shades of green.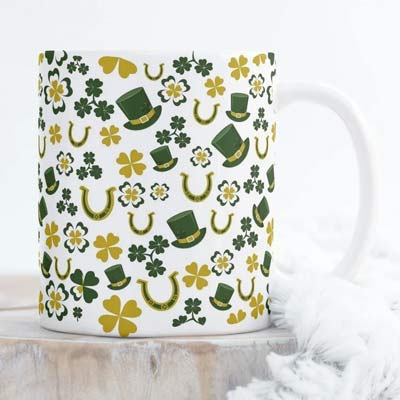 Custom Face St Patricks Day Mug
The Custom Face St Patricks Day Mug features a cartoon Leprechaun with space to add yours, a friend, or a relative's face.
There are six designs to choose from, which include happy, lucky, fighting, dancing and drunk.
The opposite side of the mug is written with a custom name. The mug is white with a green handle and interior.