Stacking Mugs allow for neat and compact storage in kitchen cupboards or on worktops. Stackable Mugs are designed to sit neatly within each other, building a mug tower.
Some Stacking Mug sets come complete with a metal frame which eliminates the possibility of accidentally knocking over.
Click Here For Stacking Mugs Prices & Availability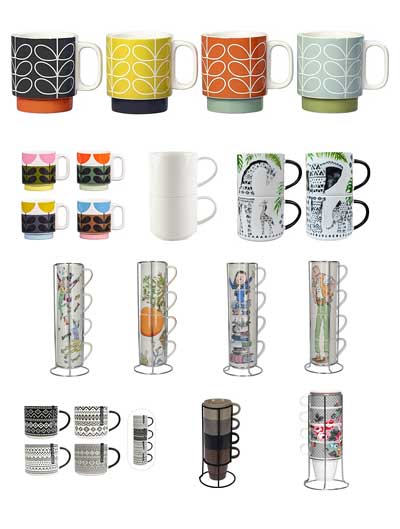 Stacking or Stackable Mugs?
Stacking and Stackable Mugs are different even though they both 'Stack'. So what's the difference.
Stacking Mugs are designed to be stored 'stacked' and are usually sold in sets of 2, 3 or 4 with a specially made a stand, usually metal.
Stackable Mugs have bases that fit into other mugs to be stacked without the need for a stand.
The Best Stacking & Stackable Mugs
We'll start with Stacking Mugs made and distributed by many reputable manufacturers here are some of the best ones.
Orla Kiely
Orla Kiely Stackin Mugs are sold in four sets and feature a unique spigot base that fits snuggly into the mug below, preventing movement while creating a neat stack. The mugs are designed in several patterns including popular 'retro stem' and 'sunflower' Each set includes the pattern in four different colours.
Roald Dahl
Roald Dahl stacking mugs include a set of four fine china mugs and a storage stand. When all mugs are stacked in the correct order, one of Roald Dahl's much-loved characters is created. Sets include 'The BFG' ' Matilda' 'James & The Giant Peach' and 'Charlie & The Chocolate Factory.
Zodiac
Add some colour to your kitchen with the Zodiac stackable mug set. Six mugs comprising the colours red, orange, yellow, green, blue and purple sit in a specially made verticle metal frame.
Yol
Yol Aztec black stacking mugs have a specially shaped base for stacking. Bone china 520ml large mugs sold in a set of four with a different black and white pattern on each mug. Aztec Giraffe pattern available also in sets of two.
Premier
A set of four floral patterned mugs on a grey pop art dots background. The mugs have been purposely built with a small handle for tighter stacking and include stainless steel frame.
Excellent
A set of four microwave and dishwasher safe stoneware stackable mugs in different shades of brown. Supplied with a black metal stand. Mugs have a 300ml capacity.
Mikasa
Pure white Porcelain mugs for the minimal, understated kitchen. The base is shaped for stacking the mugs are sold in pairs.
Duralex
A transparent tinted set of stacking mugs made from tempered glass. A classic design that has been around for decades.
Starbucks
A set of four Starbucks stackable coffee mugs featuring the company logo and est date. Supplied in a presentation gift box.
Click Here For Stacking & Stackable Mugs Prices & Availability